Improving your Wine Knowledge
Enrolling in a course to become a wine connoisseur is not for everyone, but I think most can agree that broadening your knowledge on a subject that interests you is exciting. At a time when a lot of the world is once again moving into stricter lockdowns and most of us have settled into our new routines of working from home and having coffee and wine with family and friends via online platforms, maybe it's time to spend some time behind the books again. So, why not add 'Wine Course' to your list of 2021 New Year's Resolutions? (Albeit a week or so late.)
For me, the why is simple. I like to know more about the things that I am passionate about. The how is a little more complicated at times. How and where you further or deepen your knowledge about wine depends entirely on why you want to learn more. Is it to build a base of knowledge to better appreciate the wines that you generally enjoy or are you studying to start working in the industry in one way or another?
Apart from enhancing your social experience and gaining an improved sense of taste (or palate), there are a number of other benefits to learning a little more about wine as well - although I should warn that you might be considered a snob in some circles from now on. 🤪
However, if you are keen to learn a little and taste a lot, why don't you let me show you how!
The Cycle of Learning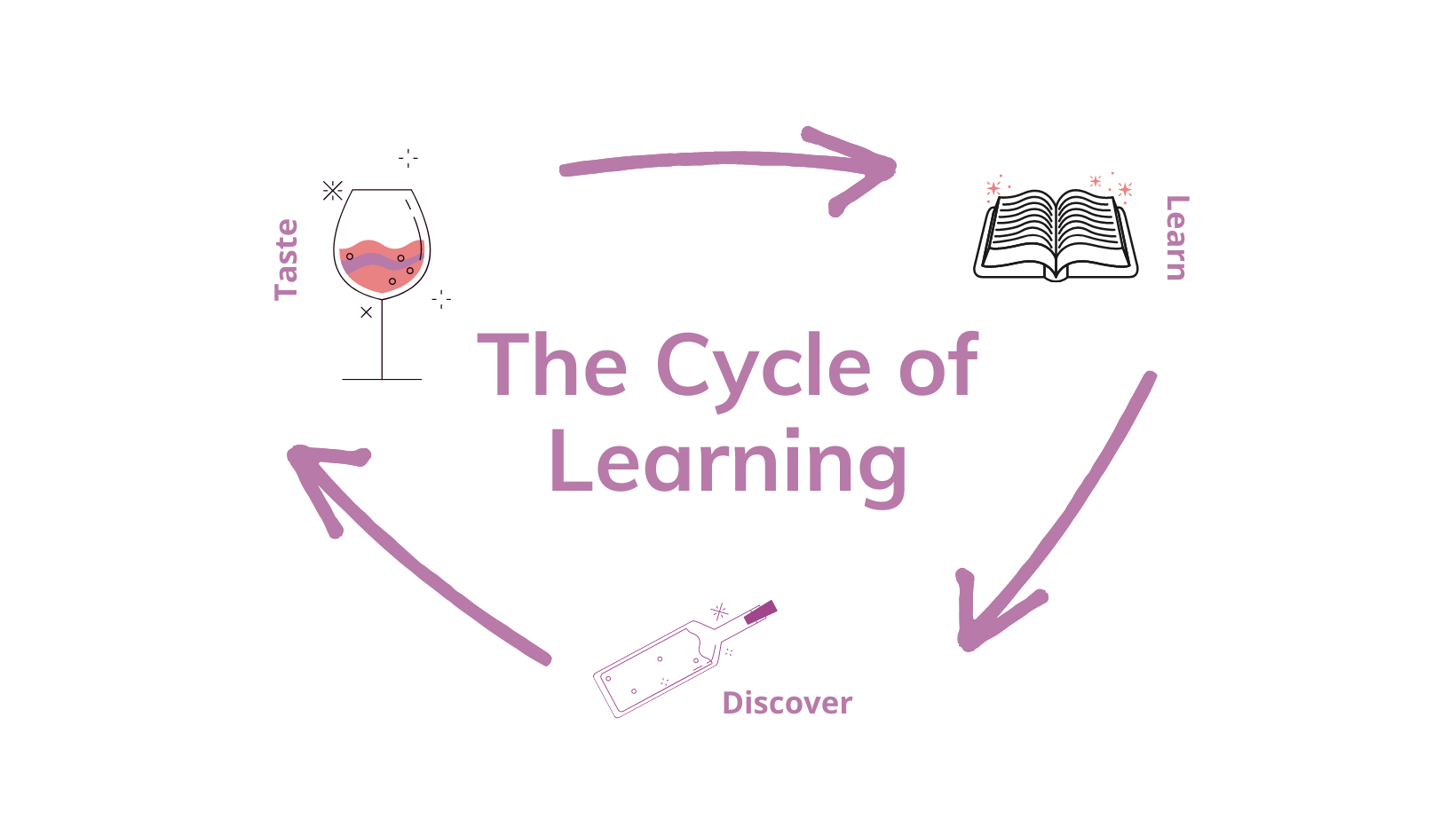 Taste
The first logical step in your wine knowledge journey is most probably tasting a glass of wine that blows you away. Enough so that you wish to savour every sip and learn more about it. You might take a photo of the bottle, add a note on an app or save the cork, all in an effort to remember to buy it again.
This first a-ha-moment-for-wine needs to jolt you into changing how you drink wine. As soon as you realise that you want to know more about wine, you need to be more conscious of what you drink and how. Your ultimate goal in this journey is to improve how you buy and consume wine. Now, the next time you pour a glass of wine:
Look at the wine
Smell the wine
Taste the wine
Start making notes about the wine - remember to add the vintage (year), producer and grape varietal
I wrote an earlier article explaining the steps to tasting wine - you can read this here.
Learn
This step can mean enrolling in an online or in-person course, signing up for newsletters and blogs (such as this one), and browsing the web for articles and books on wine.
There are a number of free online courses available, one of which is the Wines of South Africa Online Wine Course, which is a very nice introductory course. Alternatively you could also enrol in some of the Cape Wine Academy's courses that are suited to different levels.
However, if you want to learn recreationally, just start with these three easy steps:
The basics
The nine styles of wine
Essential wine etiquette
The basics
Start by learning of the words that are most often used to describe wine, and try to use these terms when you taste wine. (I've written down a short list of the terms that I find useful here.)
There are four basic characteristics that you should try to identify in your glass and make notes of when you taste a wine.
The level of tannin, found more prominently in red wine, refers to the feeling of your lip sticking to your teeth after taking a sip of wine. The more grippy your mouth feels, the higher the level of tannin in the wine.
Secondly, focus on the level of acidity in the wine. How long does it take for your mouth to produce saliva after you have taken a sip? A higher level of acidity produces more saliva.
Thirdly, is the wine sweet or dry? Most wines that are generally consumed are dry and you will not necessarily find a sweet wine unless it is a dessert or fortified wine.
Lastly, how much alcohol is in the wine? Wines with higher levels of alcohol tend to feel heavier (fuller-bodied) in your mouth - although this is not the only element that contributes to a wine's body. If the alcohol volume is too high, the wine could actually cause a burning sensation in your mouth.
Nine styles of wine
The next step in your information gathering phase would be to try and taste wines from each of the 9 primary style of wine that is made in the world. These styles are:
Sparkling Wine
Light-Bodied White Wine
Full-Bodied White Wine
Aromatic (sweet) White Wine
Rosé Wine
Light-Bodied Red Wine
Medium-Bodied Red Wine
Full-Bodied Red Wine
Dessert Wine
Feel free to send me an email or write a comment below if you would like me to send a couple of suggestions.
Essential wine etiquette
This is where some of the snobbery comes into play.
Please use a wine glass when you are drinking wine, do not fill the glass all the way to the top (unless it's been an exceptionally long and hard week/month/year).
Learn to open a bottle with a cork and pour with a little flourish. 😜
No, in all seriousness. Just stick to the guidelines for tasting wine. Do not overfill your glass, as this could hinder the flavours and aromas that the winemaker intended you to experience in your wine and try to store your wine in the correct manner. Apart from that, just enjoy it!
Discover
The final step that I will discuss today is 'discover'. Go to a wine shop and buy something that you have never seen or tasted before. Ask the assistant to suggest something for you and take a chance on something new. You could even try an international wine or simply a lesser-known varietal.
Also, read through wine tasting notes on blogs (click here) to gain a better understanding of different wines and to see if you can identify the same characteristics that the writer has.
If you've found this article interesting, please leave a comment below, sign up to my newsletter and send it to your friends and family.
You can also follow The Wine Dream on Instagram and Facebook for more photos and tasting notes. 🍷