South Africa's Wine Regions
It's been a busy week in the South African wine industry. Harvest has started, the ban on domestic alcohol sales was lifted and the industry celebrated its 362nd birthday on 2 February! More than enough reasons to pour a glass of South Africa's finest wines. 🍷
In February I want to spend some time exploring the different wine regions and routes of South Africa; to help you plan your next visit. 🤪
First off, it is important to understand where the wine in your glass comes from. If you know where the wines that you enjoy most originated from, it will be easier to discover other producers from the same region.
Wine of Origin Scheme
What it is
European wine producing countries have different origin control systems that have been in place for centuries. These systems are very important as the area of origin of the grapes has a major role to play in the final wine that is produced. The same approach was adopted (although with less stringent rules on allowed varietals, winemaking techniques, etc.) in South African in 1973.
It was in 1973 that South Africa's wine regions were defined under the Wine of Origin Scheme, with an amendment made in 1993 to make provision for the inclusion of defined geographical units.
Why?
The area in which grapes are grown, along with the skill of the winemaker, have a direct impact on the flavours that weave their way into your glass. Regions have certain soil types, climatic differences and additional vegetation (i.e. Cape Fynbos). It is for this reason that it is important to note the origin of the wine, in an attempt to protect both the producer and consumer. The main focus of the Scheme it thus to ensure that proper geographical information is displayed on labels.
Whenever you see the term 'Wine of Origin' or the abbreviation 'W.O' along with the name of a production area (e.g. Western Cape, Stellenbosch, Bottelary) you can be guaranteed that 100% of the grapes from which the wine is made, comes from that specific area.
The Units
Under the Scheme the country is demarcated into the following production units: geographical units, regions, districts and wards. There are currently six geographical units in South Africa, namely: Western Cape, Northern Cape, Eastern Cape, Kwazulu-Natal, Limpopo and Free State.
These geographical units are then divided into seven regions, 29 districts and 92 wards. In the interest of not making this article too technical, I will list the seven regions and provide a map showing the districts and wards.
The regions are: Cape Coastal (overarching region), Cape West Coast (sub-region), Breede River Valley, Cape South Coast, Coastal Region, Klein Karoo and Olifants River.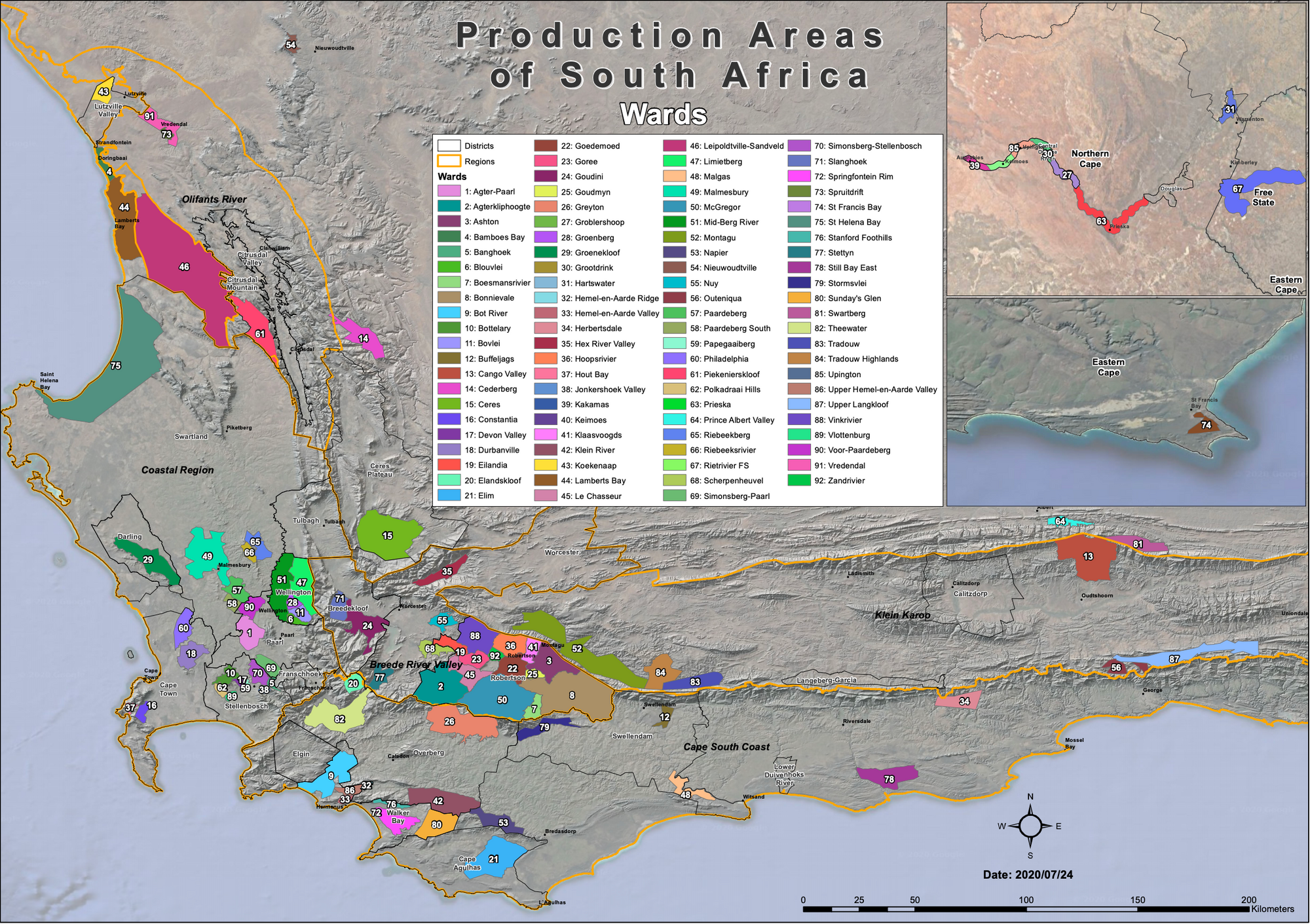 So, the next time you open a bottle of wine that you like, take note of the W.O name printed on the label to learn which of the wine production areas in South Africa are your favourite.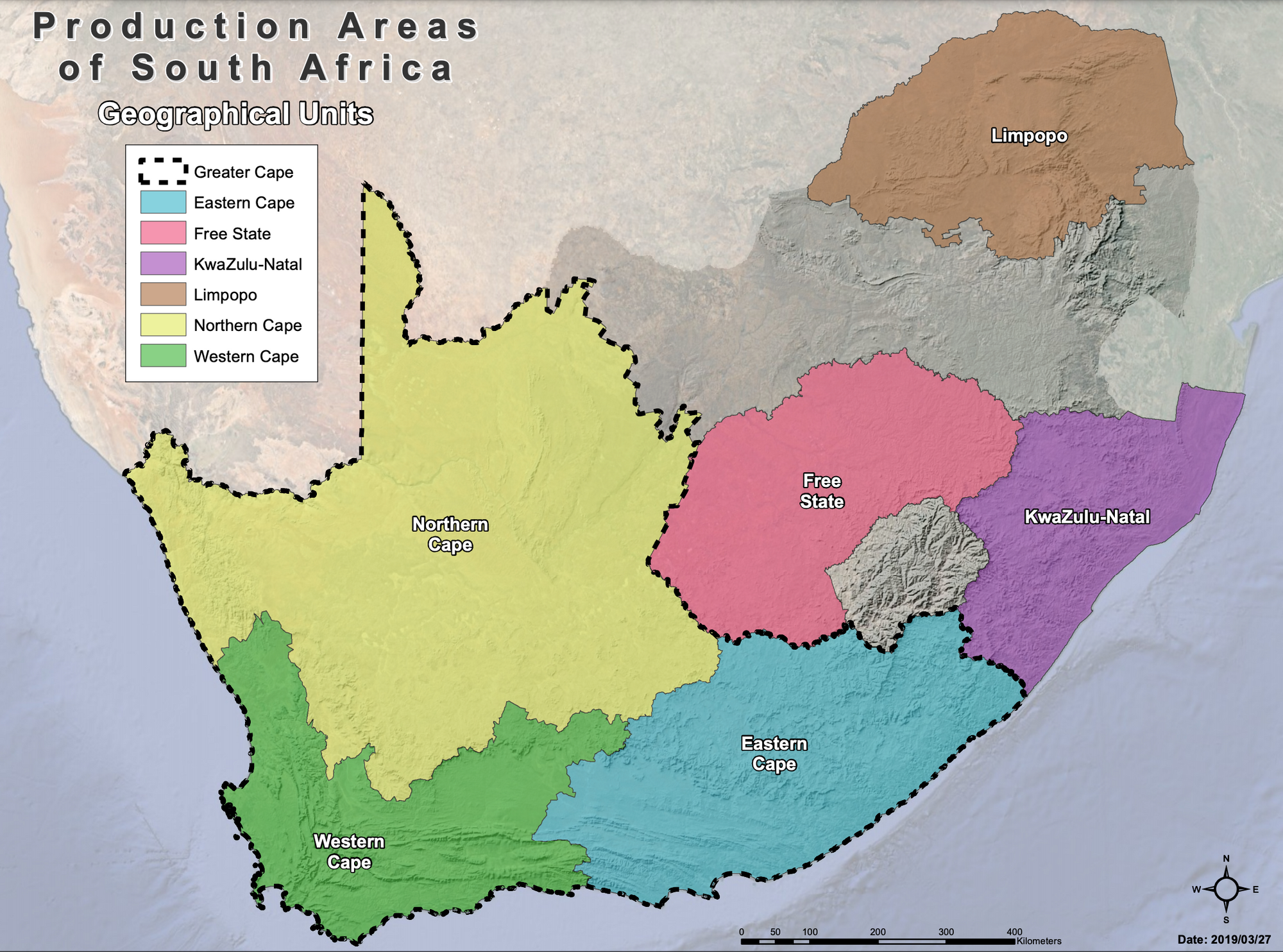 Thank you for reading, next week I will explore some of South Africa's wine routes with you. If you've found this article interesting, please leave a comment below, sign up to my newsletter (if you haven't already) and send it on to your friends and family.
You can also follow The Wine Dream on Instagram and Facebook for more photos and tasting notes. 🍷