Wining along the Wine Routes
Just as diverse as its culture and people, the wine routes of South Africa offer diverse terroirs, scenes and wines to those that visit.
A little bit of history
South Africa has been producing wine since 1659, but it was only in 1971 that the first Wine Route in South Africa was established as an organised network where tourists could experience the wine and history of each winery.
Today, 50 years later, South Africa boasts 21 different Wine Routes throughout the country representing around 450 members. The first route to be established was the Stellenbosch Wine Routes, which today is the South Africa's most developed wine route that is also home to five sub-routes, but more on this a little later.
The Wine Routes
I've organised the Wine Routes alphabetically and have included a link to each route's website for further reference. I have also included maps of the wine routes and areas where these were available from the respective websites.
Agulhas Wine Triangle
Wine for Explorers. This is the catchy slogan used by the Agulhas Triangle to pay homage to the rich history and people that have inhabited and shaped this area.
The region was only established in 2019 by a group of winemakers from the area who wanted to create a platform to showcase the wines that this unique region can produce.
Currently the home of 10 members each bringing an individual experience to visitors; they all produce wines with a common theme of elegance, concentrated flavours, and rich and deep fruit expression.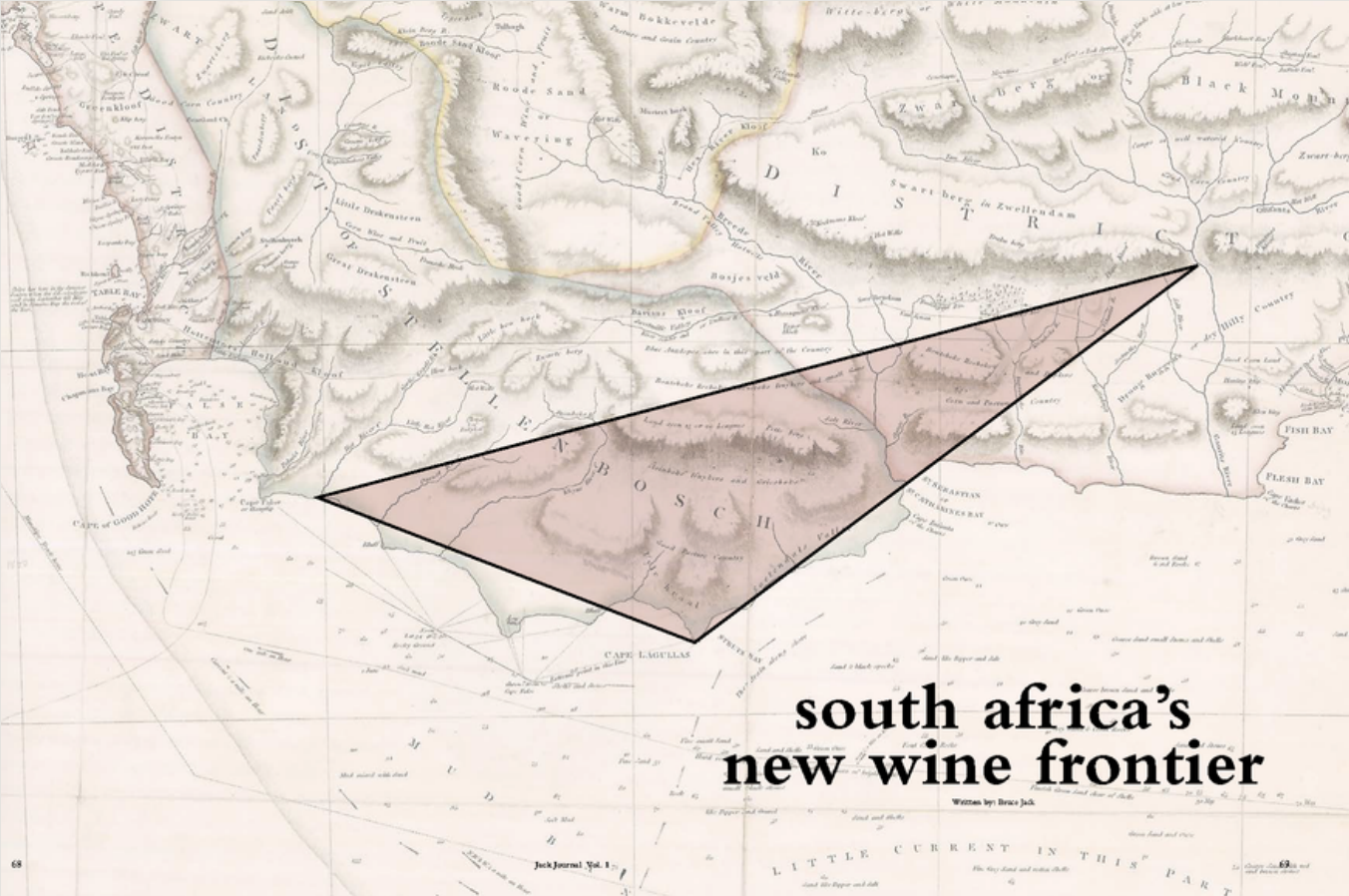 Bot River Wine Route
Set within a 10km radius, and home to 14 members, tourists to the Bot River Valley will be welcomed with open arms, warm smiles and handcrafted, top quality wines. The region boasts wine from some of the oldest vines as well as from innovative varietals from new plantings.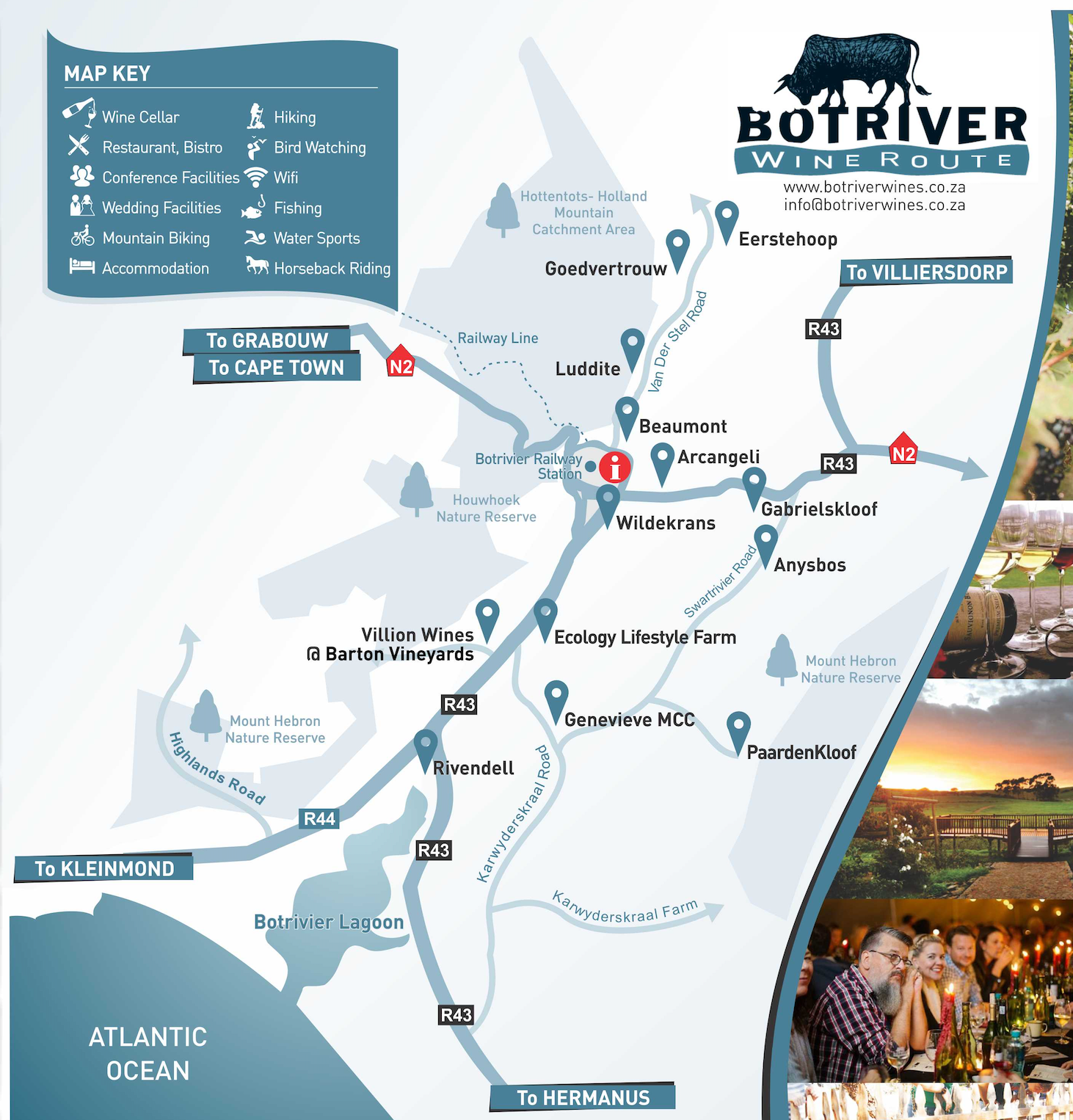 Breedekloof Wine Route
The Breedekloof Wine Route takes you to 22 wineries in the Rawsonville, Slanghoek, Goudini and Breede River areas. These wineries range from small, boutique cellars to large estates and produce wines from many different varieties, although there is a special focus on Chenin Blanc.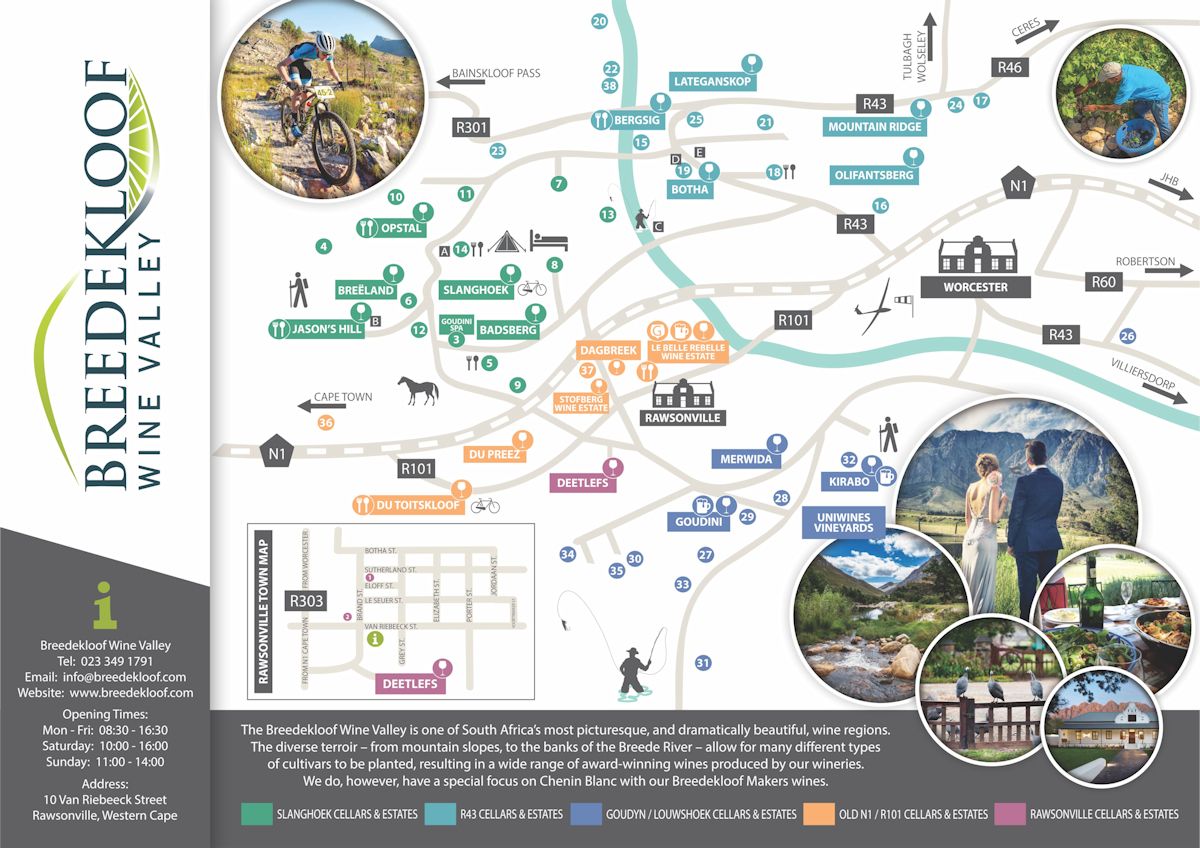 Breedekloof Wine Route Website
Constantia Wine Route
The Constantia Valley is home to the oldest wine farm in South Africa (Groot Constantia) and the area produces some of the most iconic wines. It is a beautiful area and visitors can enjoy tasting lovely wines with views that will be hard to top.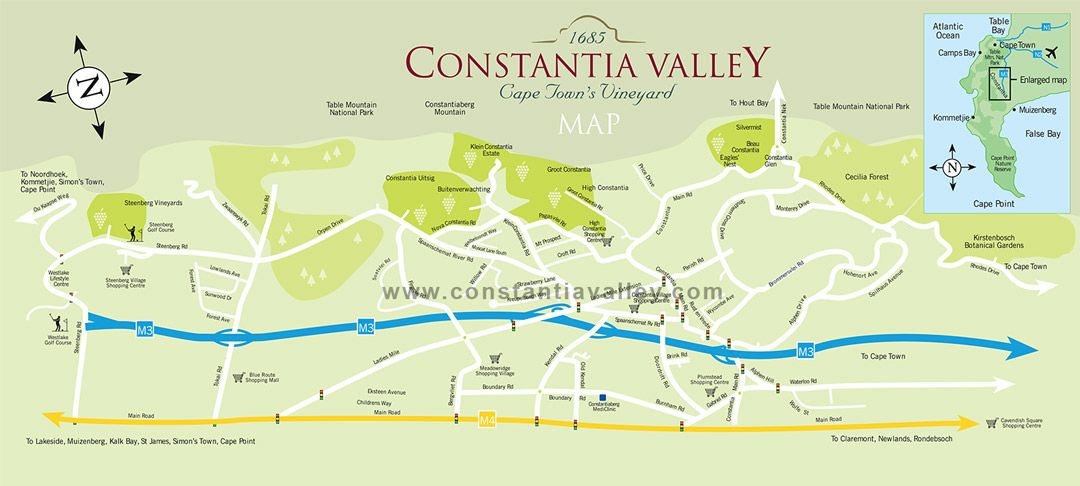 Darling Wine & Food Experience
This small wine region that was separated from the Swartland in 2003 and comprises the wine estates surrounding the little town of Darling has gained international acclaim in the past couple of years. What makes this region unique is the intense and unusual wines made from bush-vine Sauvignon Blanc and Shiraz. Apart from Sauvignon Blanc and Shiraz, the region is also known for Pinotage, Cabernet Sauvignon and Chenin Blanc all grown in bush vines with intense flavour and concentration.
Durbanville Wine Valley
Just outside Cape Town, lies the Durbanville Valley with scenic vineyards producing award winning wines. The 12 member farms all offer a visitors a unique and charming experience, wonderful wine tastings and culinary experiences.
The Durbanville Wine Valley strives to showcase the different terroir in their wines, resulting in a magnificent range of intense, fruit-driven yet elegant wines.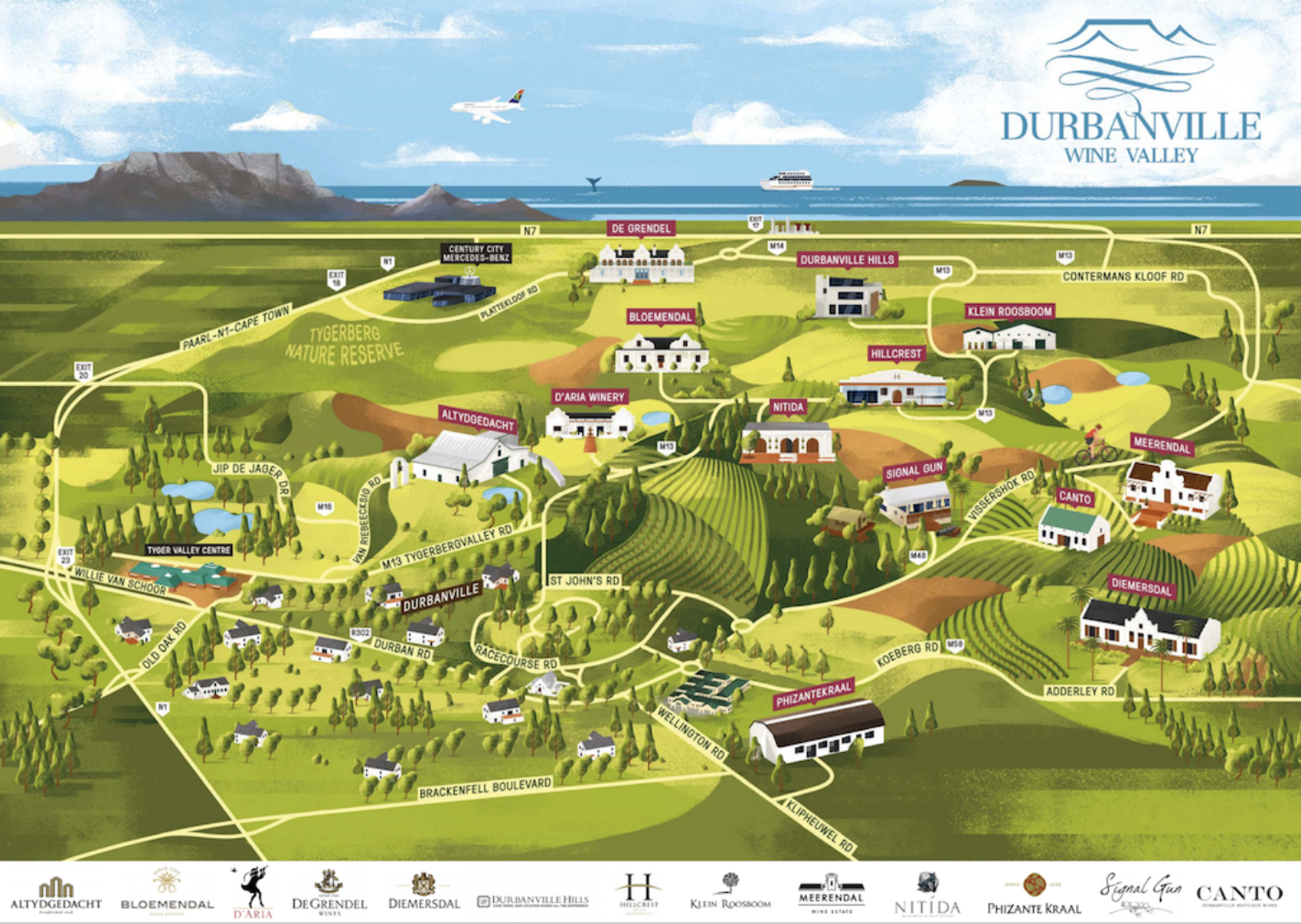 Durbanville Wine Valley Website
Wine of Elgin
Known for some of the best cool climate wines in South Africa, Elgin is synonymous with elegant white and red wines. With 14 wineries making up the wine route, this lush valley is a haven for tourists.
Franschhoek Wine Valley
With 45 wineries dotted along the route, there is definitely a wine and an experience to suit every mood. Many of the farms still bear their original French names and have preserved the Cape Dutch homestead for future generations to explore.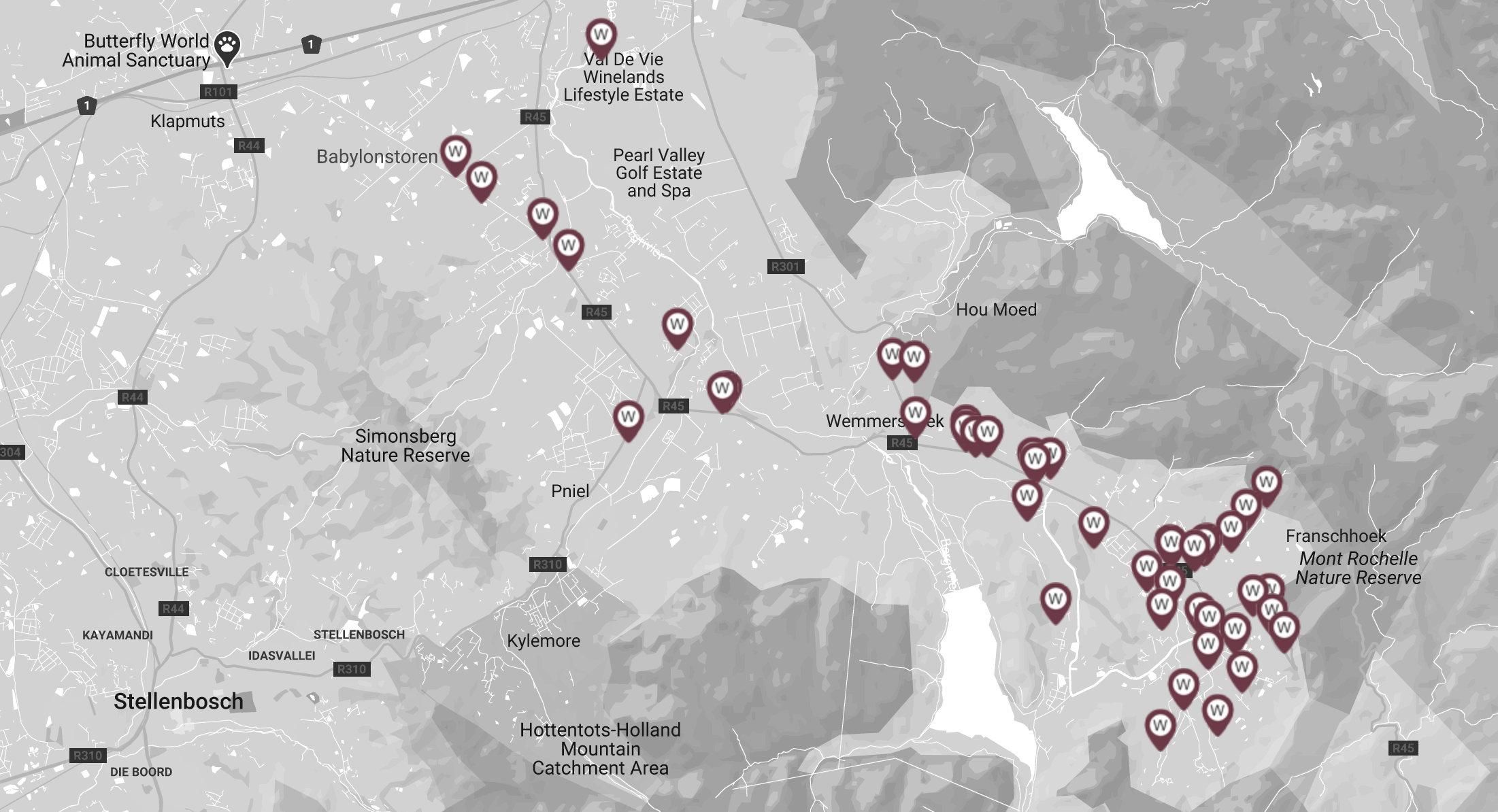 The area also produces some of the country's most extraordinary Méthode Cap Classiques, which can all be enjoyed during a trip along the Franschhoek MCC Route.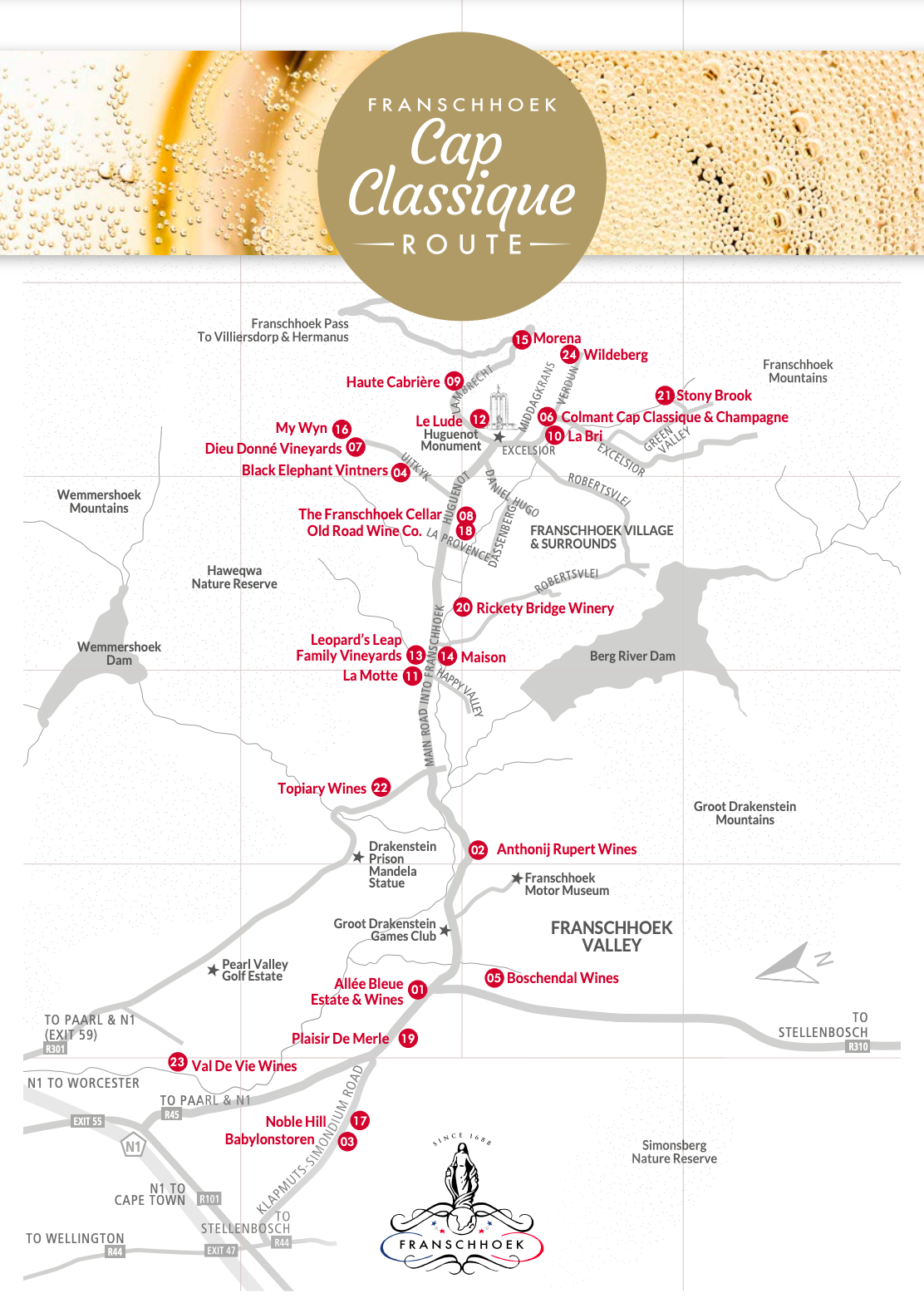 Franschhoek Wine Valley Website
Hemel-en-Aarde Wines
Hailed as the home of Pinot Noir and Chardonnay in South Africa this region, which is home to more than 20 wine producers, has several factors that sets it apart from the rest of South Africa's wine producing areas. The region's main focus is on the production and cultivation of Pinot Noir and Chardonnay which thrive in this area. Almost all of the properties are family owned and operated producing high-end wines in smaller quantities.

Klein Karoo Wine Route
The world's longest wine route is also the most diverse of South Africa's wine regions. Stretching along the Cape Route 62 from Montagu in the west to the Outeniqua in the east through the Klein Karoo the route offers visitors an exciting experience with local cuisine and quality wines. The region is best known for the world class Cape Port-style wines and fortified wines made from Muscadel. Calitzdorp produces their signature Calitzdorp blend which is a dry wine produced from traditional Portuguese varieties.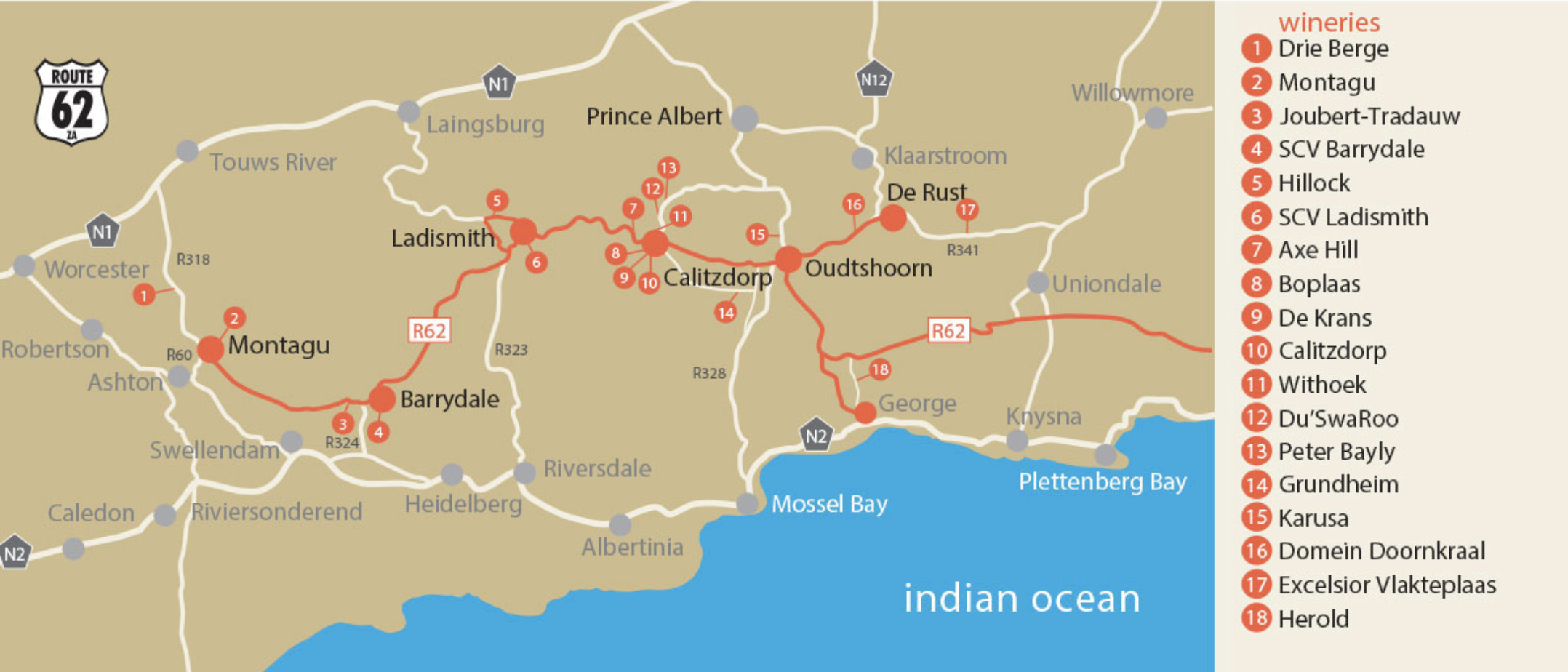 Klein Karoo Wine Route Website
Orange River Wine Route
This region stretches along the Orange River (a distance of more than 300 kilometres) where around 580 expert grape farmers produce the fruit used by Orange River Cellars to craft an extensive range of dry white, natural sweet and dry red wine, as well as dessert wines. Orange River Cellars is situated in the northern parts of the Northern Cape Province, approximately 1 000 km from the traditional winelands of the Cape.
Orange River Wine Route Website
Paarl Wine Route
The second oldest Wine Route in the country is renowned for rich, full-bodied, spicy red wines and crisp white wines. Although Chenin Blanc, Chardonnay, Pinotage, Mourvédre and Viognier all perform very well in this area, it is Shiraz that is the variety of choice.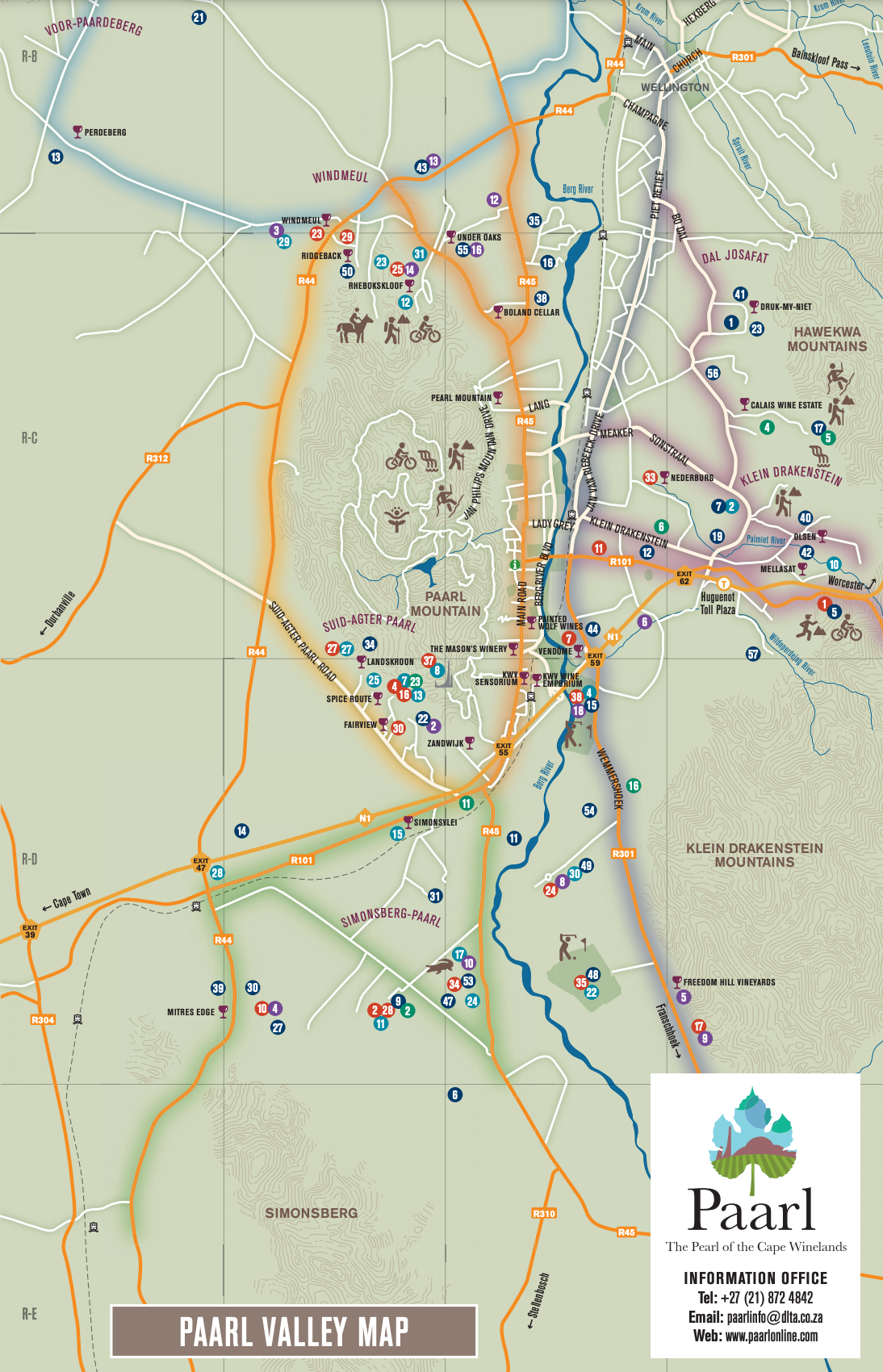 Plett Winelands
With 9 Méthode Cap Classique style wines being produced in the area it has become known as the 'Bubbly Route' by many. The Plett Winelands is also South Africa's smallest wine growing region and the first vines were only planted in 2001. However, in the past 20 years, the region has grown tremendously and produce good quality wines from the 16 vineyards in this beautiful region.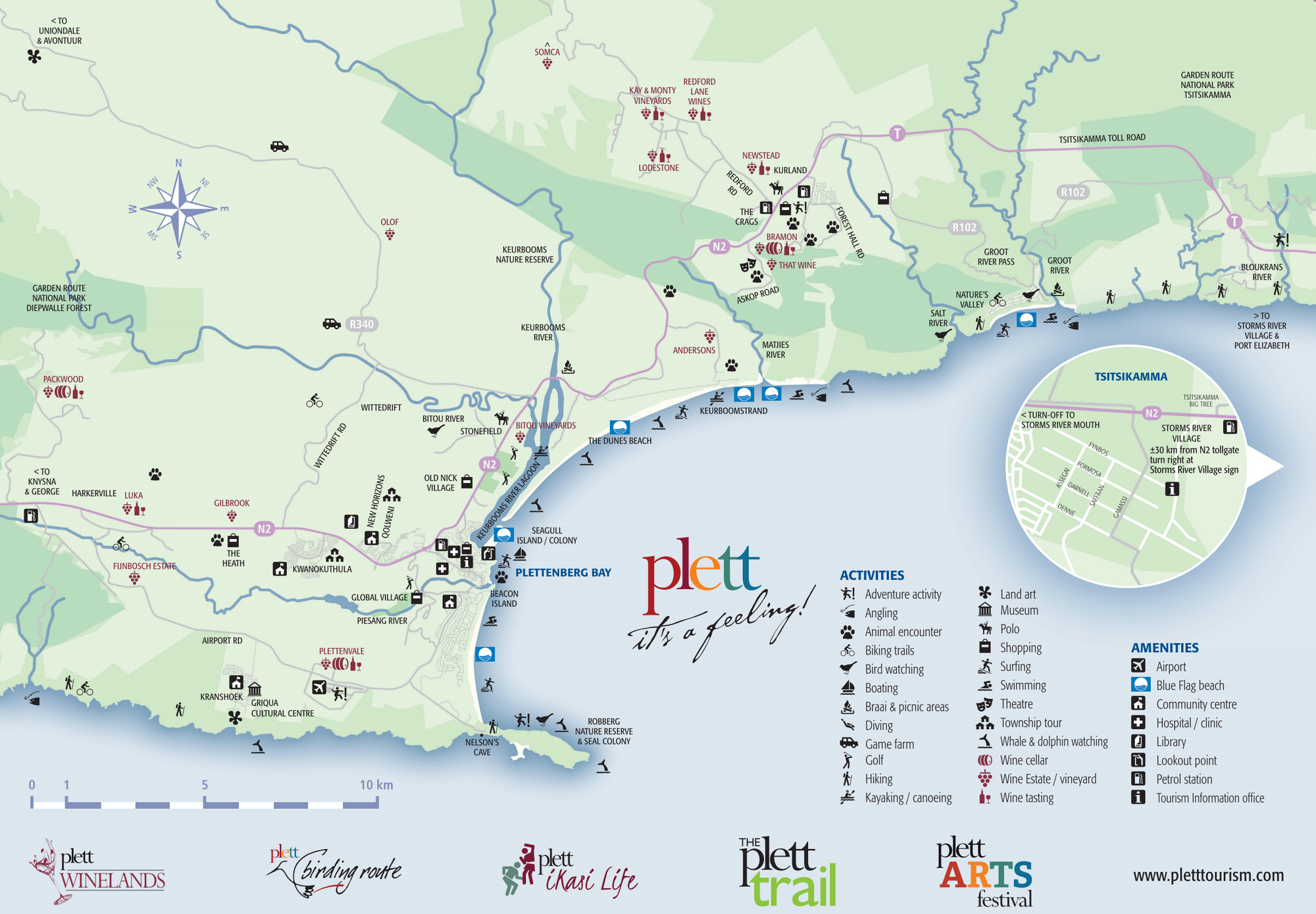 Robertson Wine Valley
The Robertson Wine Valley association was formed in 1983 with the aim of improving the local wine industry and promoting the area as a tourist destination. Today around 36 wineries are represented and some excellent wines come from this region.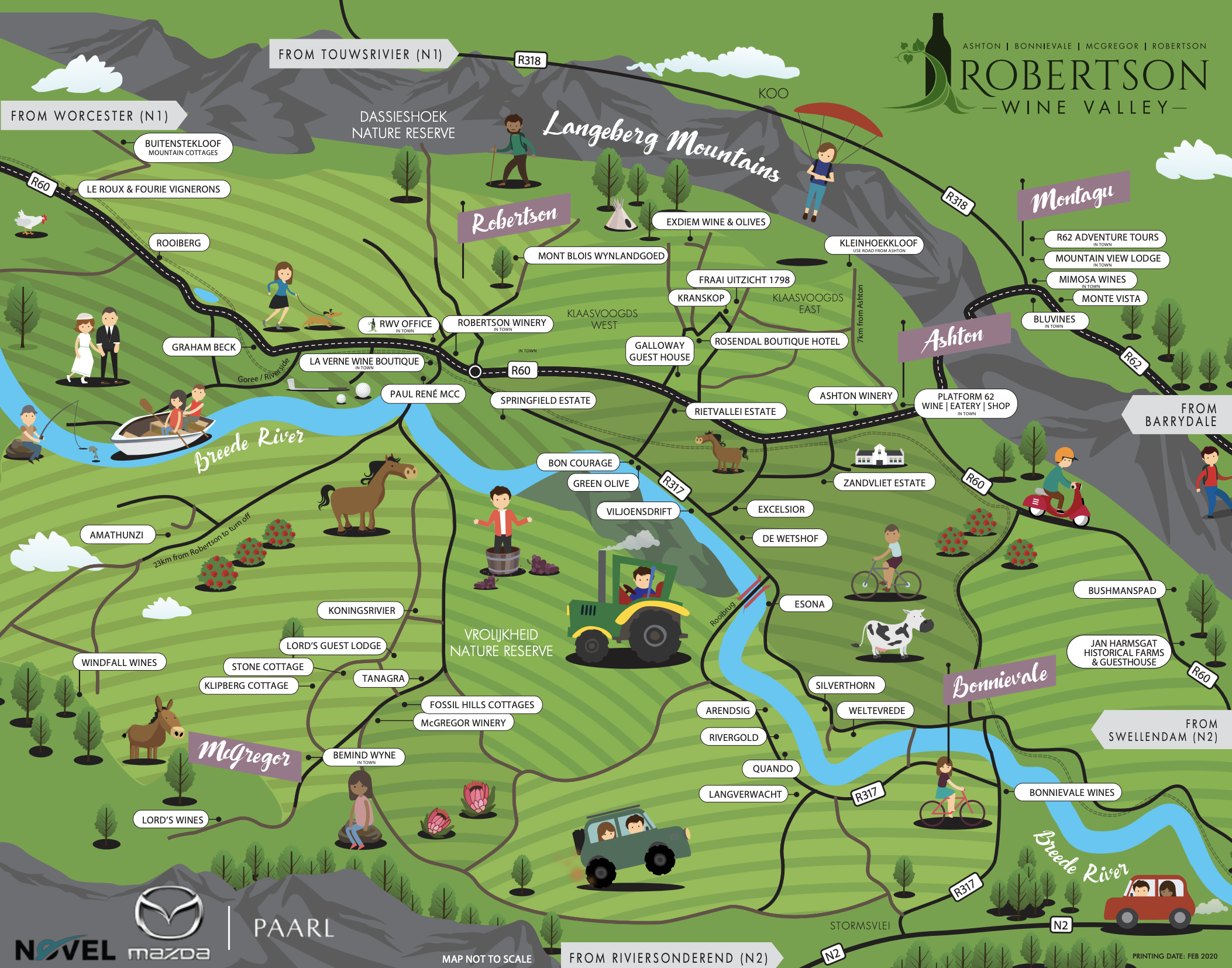 Stanford Wine Route
One of the youngest routes in South Africa, having only been established in 2015, has a varying terroir and produce what some call 'honest' wines with styles that range from dry rosé and MCC, to full bodied reds.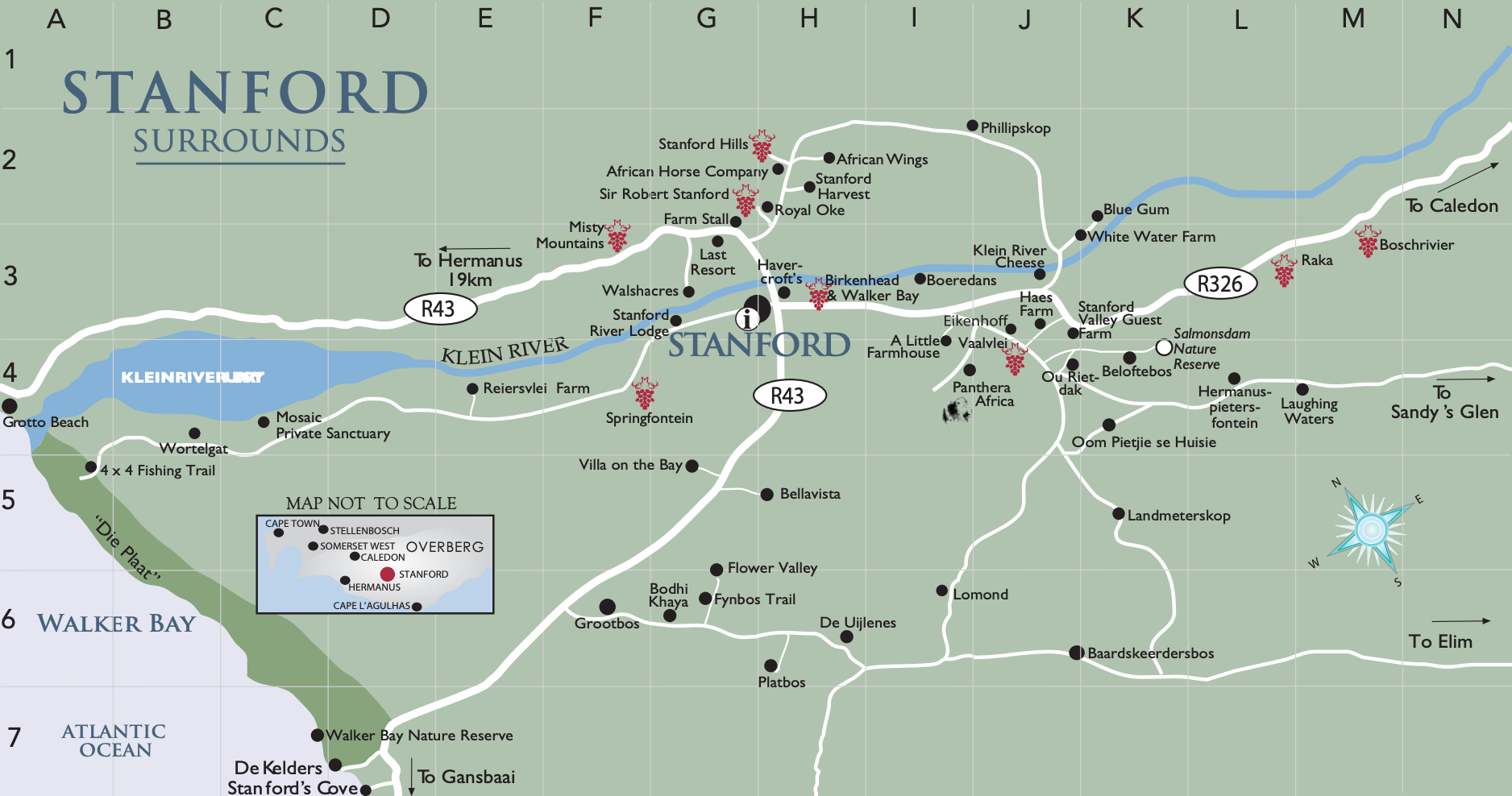 Stellenbosch Wine Routes
The oldest and most evolved wine route in South Africa, representing more than 150 wineries across five sub-routes, each with their own wine styles, around the historic town of Stellenbosch. Some of the best wines in South Africa come from here.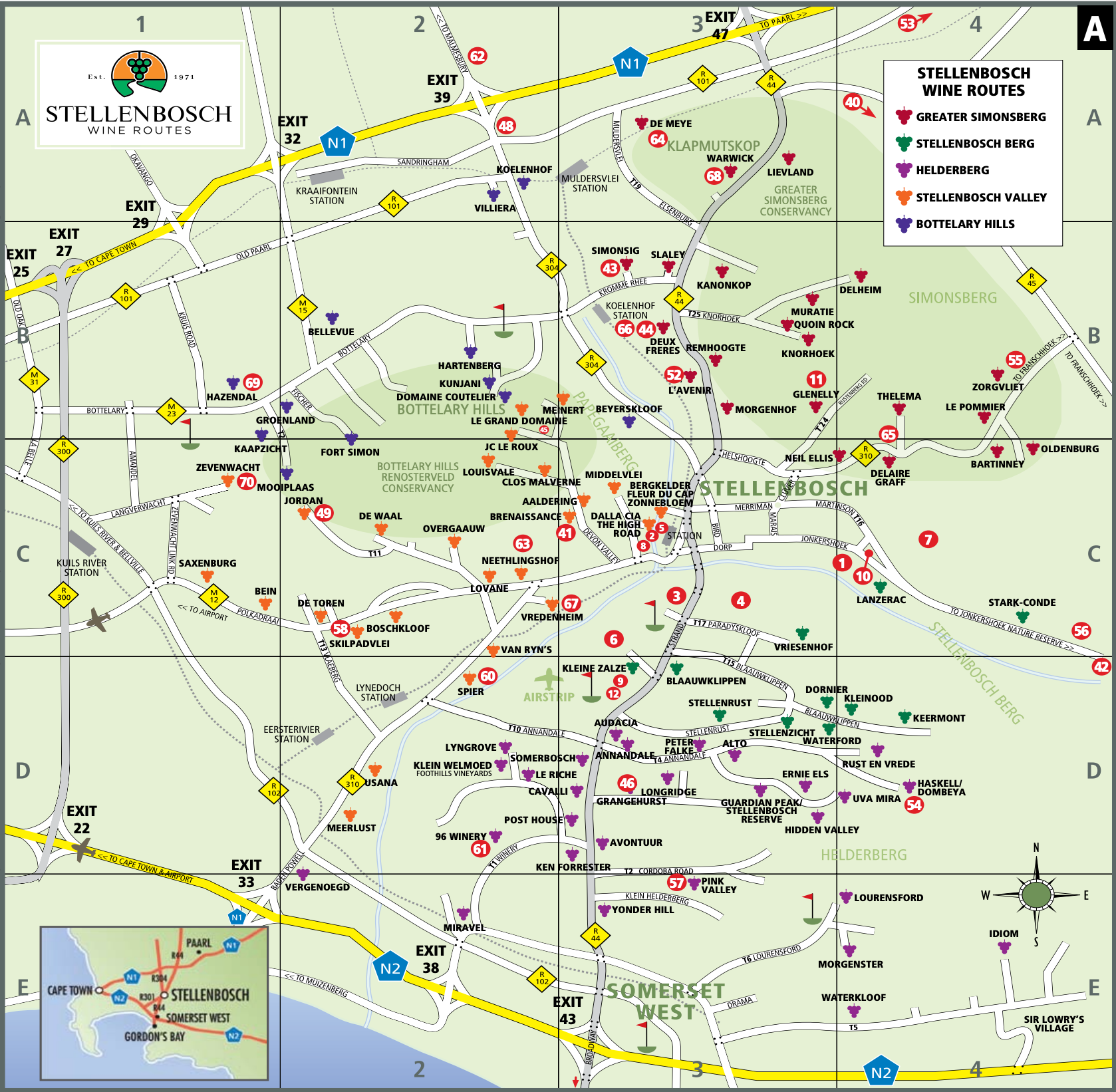 Stellenbosch Wine Routes Website
Swartland Wine & Olive Route
The Swartland is home to some of the country's oldest vines from which high-quality, concentrated wines are produced. The region is one of the unsung splendours of South Africa's winelands.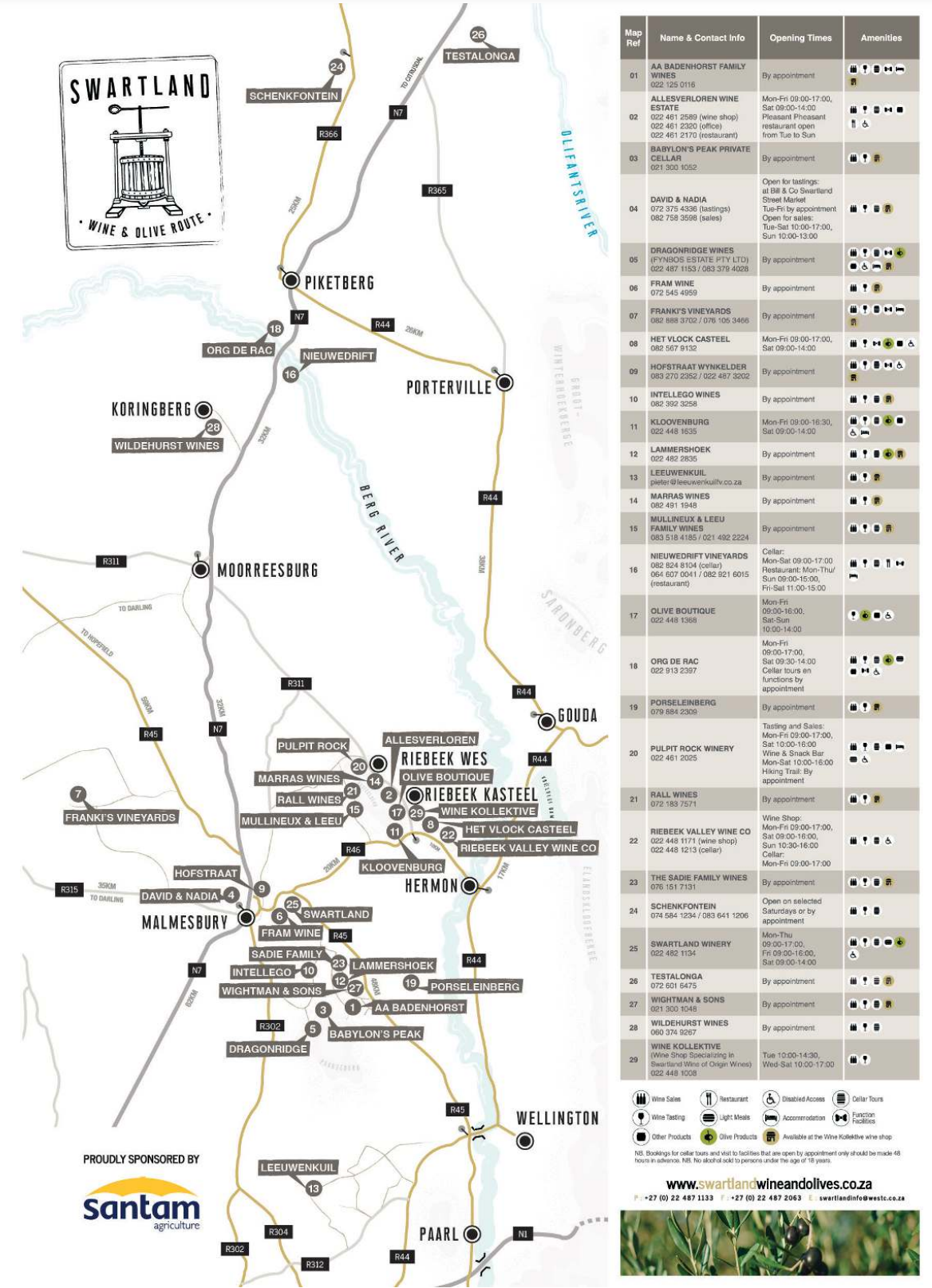 Swartland Wine & Olive Route Website
Tulbagh Wine Route
The Valley lies surrounded by mountains on three sides and the town in steeped in history with a total of 32 provincial monuments on one street. The wineries around Tulbagh have always been innovative in their approach to winemaking with the likes of Twee Jonge Gezellen (the home of Krone MCC) being the first estate to introduce night harvesting in South Africa. It is a beautiful valley with excellent wines on offer.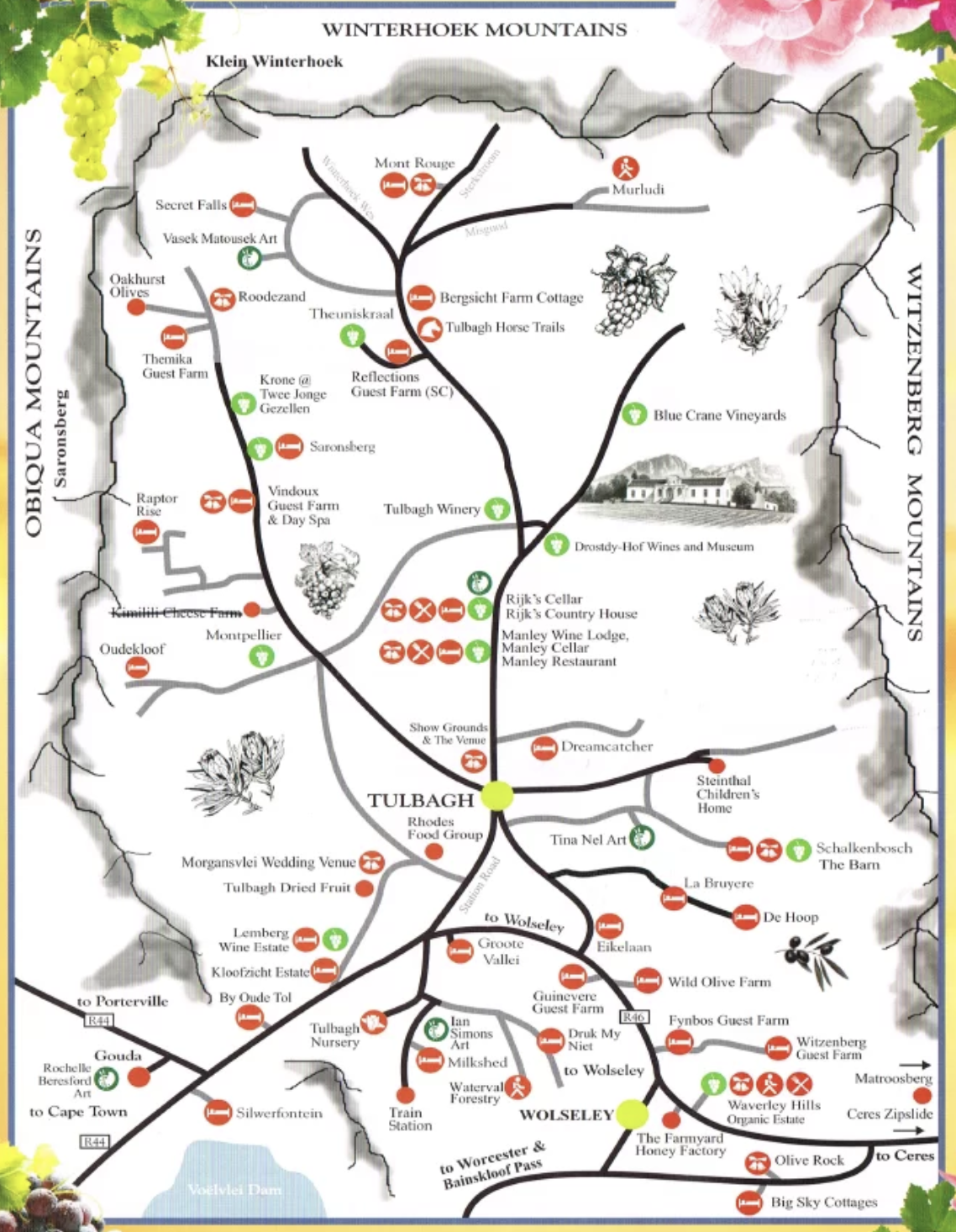 Wellington Wine Route
Wellington has twice been awarded the 'Top Wine Area' title at the South African Terroir Awards. The region is known as the 'cradle of the contemporary South African wine industry', supplying up to 85% of the country's vine cuttings. The wine route has 17 members, and have been operating independently from Paarl Wine Route since 2012.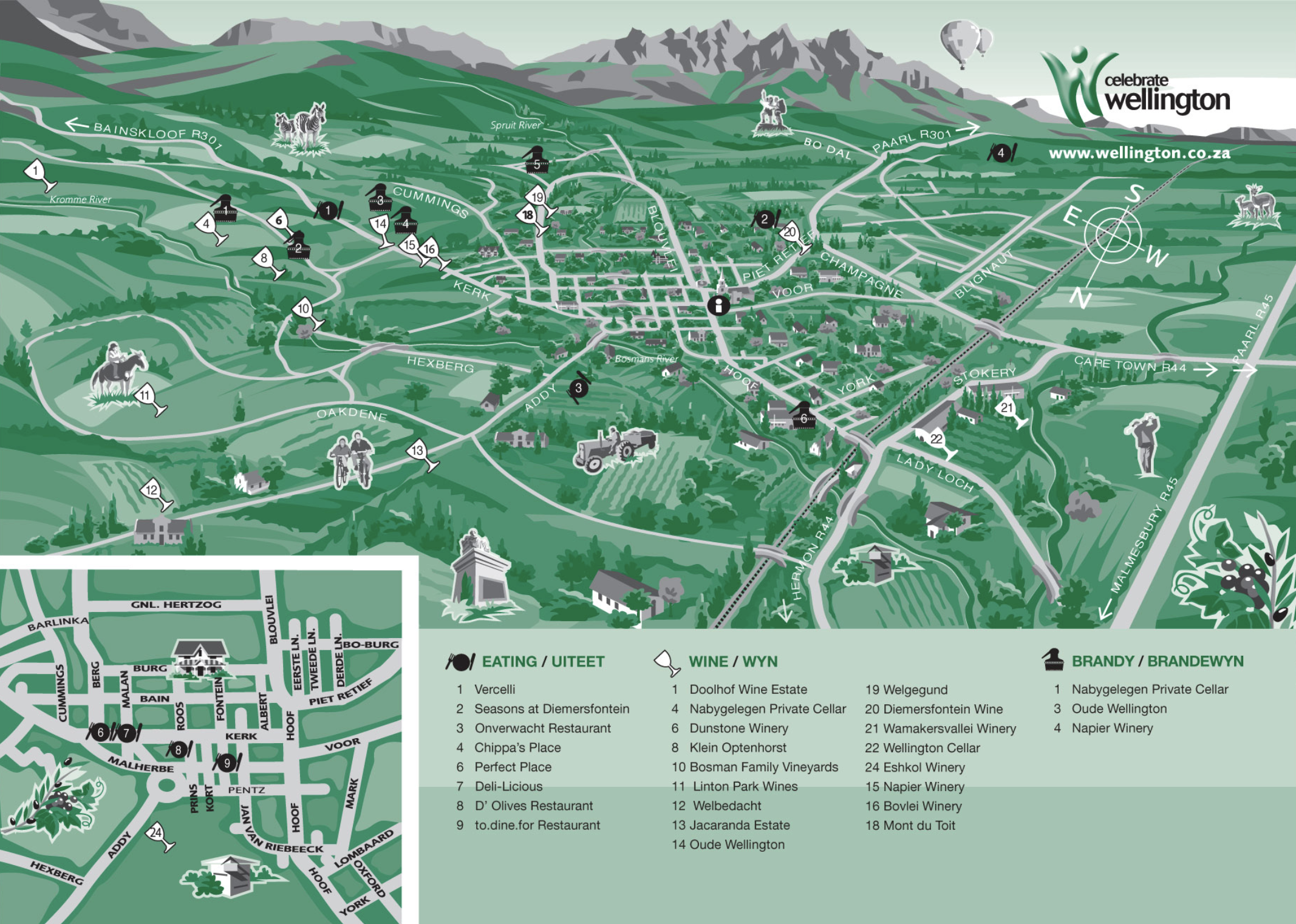 West Coast Wine Route
One of the quieter wine routes in the country, it stretches from the mountains near Paleisheuwel in the south and continues northwards through Klawer, Vredendal, Lutzville and Doringbaai to Lambertsbaai. Visitors will find warm welcomes and lively wines on offer when they stop by one of the wineries on the route.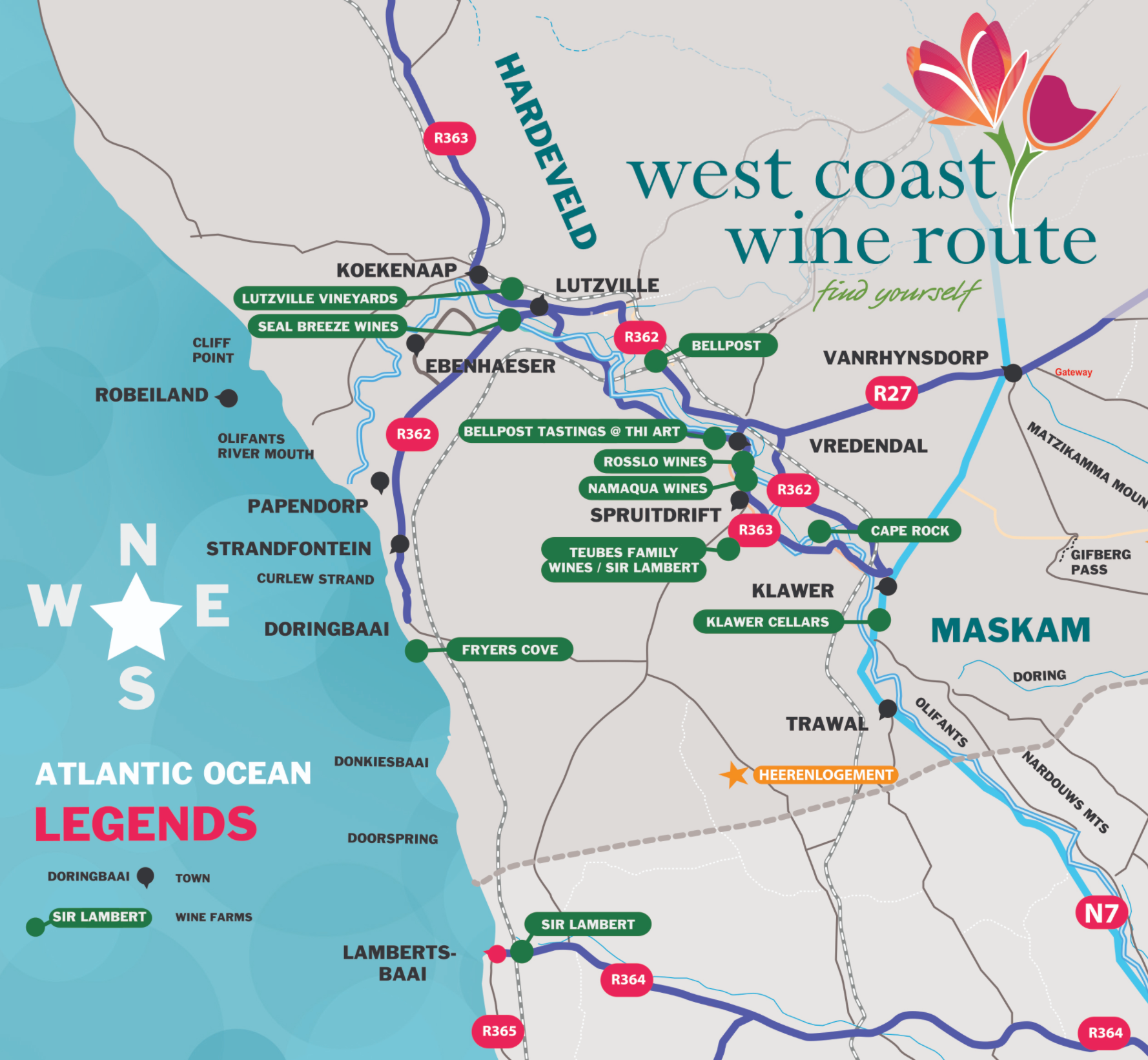 Worcester Wine & Olive Route
It is in the breathtaking Breëde River Valley where you will find the Worcester Wine & Olive Route's 12 award winning wine cellars. The area has been producing top-quality wines for ages and is famous for producing renowned styles of Cabernet Sauvignon and Chenin Blanc.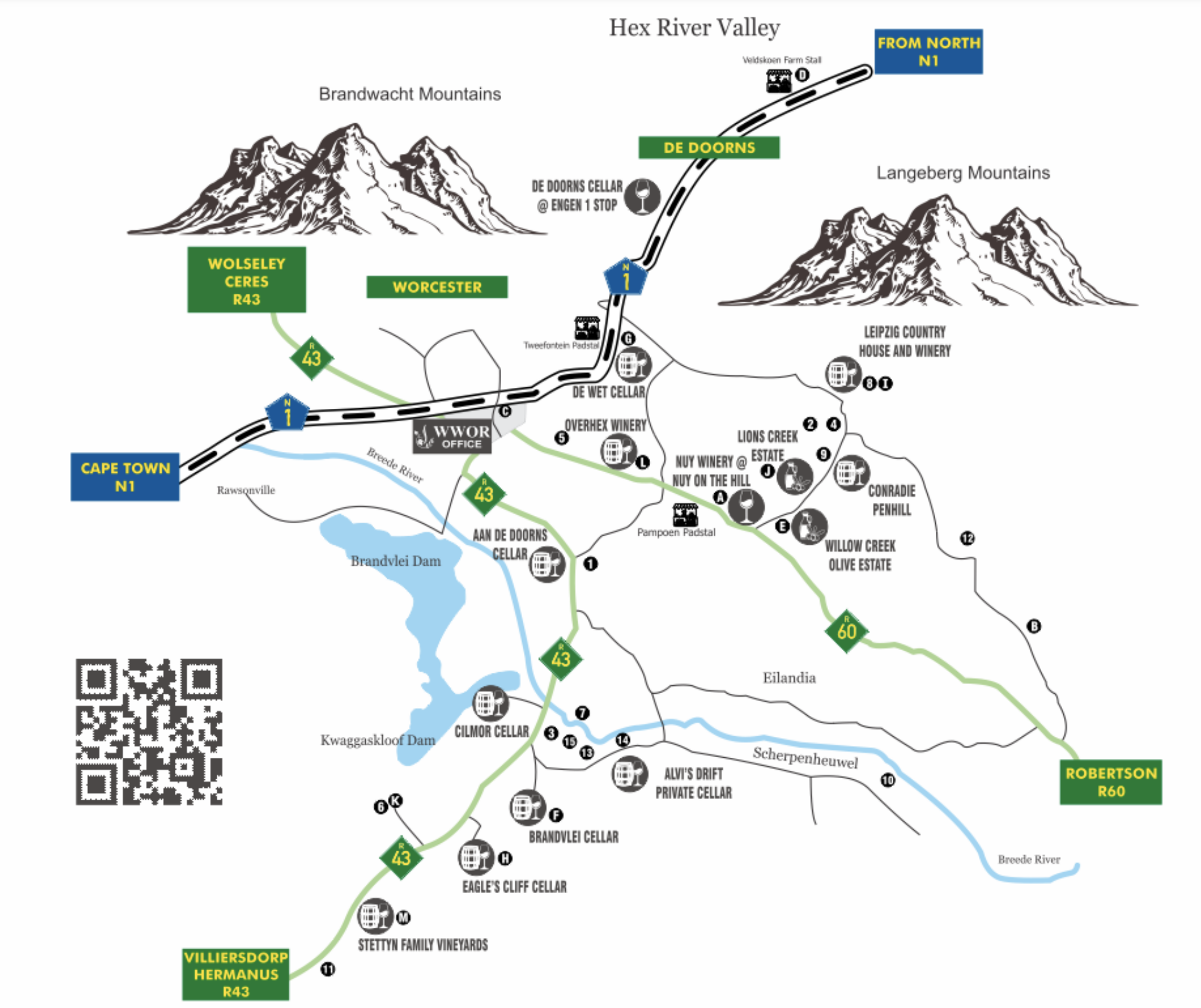 Worcester Wine & Olive Route Website
For more information on the different Wine Routes you can visit the Wines of South Africa website.
Thank you for reading. I hope that you've enjoyed this whirlwind tour of South Africa's Wine Routes with me! If you've found this article interesting, please leave a comment below, sign up to my newsletter (if you haven't already) and send it on to your friends and family.
You can also follow The Wine Dream on Instagram and Facebook for more photos and tasting notes. 🍷