The Heartbreak Grape. The Prince of  Red Grape Varietals. The Devil.
Indeed, these are the terms mostly used to describe Pinot Noir.
Wow, what a description for an elegant and sophisticated wine - in your glass. Pinot Noir is however, one of the most difficult varieties to handle in the vineyard. It is a terroir-driven grape varietal, which means that the terroir has a very big impact on the wine that is produced.
Growing Pinot Noir
The cool climate and limestone-based soils of Burgundy is the perfect home to this fickle, low-cropping grape. The berries have thin skins and are clustered together tightly, which means that they are very sensitive to temperature fluctuations and prone to sunburn, rot, fungus and mildew. Since the vines prefer cooler climates, with long, cool growing seasons the vines are often found in protected valleys or close to large bodies of water.
In the winery the juice is sensitive to fermentation methods, yeast strains and is highly reflective of its terroir with different regions producing very different wines. It comes as no surprise then that it takes a great deal of skill and patience to allow Pinot Noir to perform at its best. Something that is often reflected in the price of the wine.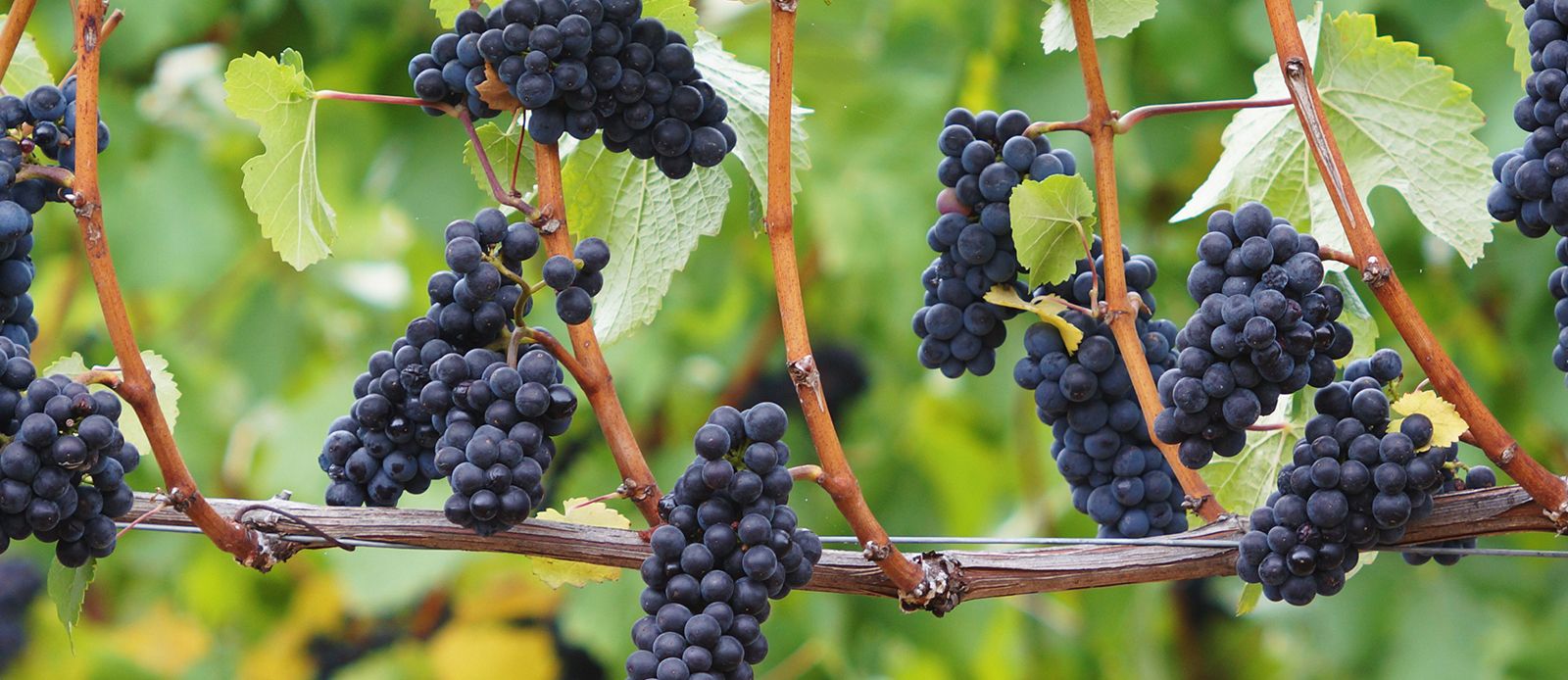 In South Africa, Pinot Noir is most successfully grown in the Hemel-en-Aarde Valley in the Walker Bay area and in Elgin. However, successful plantings can be found as far inland as Sutherland-Karoo, with a few blocks scattered in and around Stellenbosch, Franschhoek and Villiersdorp to name a few. The variety thrives in cooler areas where the soils are rich in lime.
Oddly enough the first recorded plantings of Pinot Noir were at Alto in Stellenbosch, in the 1920s. These vines did not last long, and Muratie (also in Stellenbosch) was then, for a while, the only wine producer to make Pinot Noir wine.
Luckily for South African Pinot Noir lovers, Tim Hamilton-Russell and his then winemaker, Peter Finlayson from the Hemel-en-Aarde Valley, realised in the 1970s that the terroir is suitable to produce excellent Pinot Noir. This led to an increase in quality and plantings for still wine production.
Drinking Pinot Noir
The best Pinot Noirs from Burgundy have grip, complexity and intense, pure fruit flavours. The wine is typically light in colour with low levels of tannins and high acidity. Pinot Noir should have an abundance of red fruits, such as strawberry, raspberry and red cherries, on the palate and well-aged Pinot Noirs can develop flavours of mushroom, forest floor and cured meat.
In South Africa young Pinot Noir may taste of red fruits, such as raspberries, plums, cranberries and cherries. Aged Pinot Noirs often develop earthy notes, with hints of truffles, wild mushrooms, cured meat and exotic spices.
I'll be enjoying the La Vierge The Affair Pinot Noir 2018 this evening - in celebration of Pinot Noir Day and the unbanning of alcohol in South Africa! I'll post tasting notes of the wine at a later stage.
Thanks for reading! If you would like to receive these articles in your inbox, click on the subscribe button and send me your email address.
Follow The Wine Dream on Instagram for more photos and tasting notes.