I haven't often had the chance to try wines that were not produced in one of South Africa's more famous wine regions (I'm talking about Stellenbosch, Constantia, Durbanville - all of the areas that immediately come to mind when you hear 'wine' and 'South Africa') and I can honestly say that I have not tried any wine from Prieska. Until today that is.
Lowerland Wines
As the third generation to farm on Lowerland (Afrikaans for land of lush greenery), Bertie Coetzee was seemingly not always destined to be a winemaker. This man of many talents used to be the lead singer/songwriter for the Afrikaans rock band Zinkplaat.
Today, he is an organic farmer making wine on the family farm that lies on the South Bank of the Orange River in the Northern Cape, close to the town of Prieska. The high altitude and desert-like climatic conditions (dry, hot days and cold nights) as well as the nearby river create a unique terroir where grapes can be produced disease-free, with small berries, complex flavours and a fresh acidity.
The first single cultivar wines under the Lowerland label were produced in 2013 and Prieska was registered as a wine producing region in 2015. The region is expanding and attracting innovative winemakers who will ensure that quality wines form Prieska will find their way to your glass.
Die Wonderdraai 2020
Now, on to the wine. Die Wonderdraai is a blend of Colombard (71%) and Chenin Blanc (29%). It is a lovely complex wine that was fermented in old oak barrels and aged on the lees for a period of 9 months.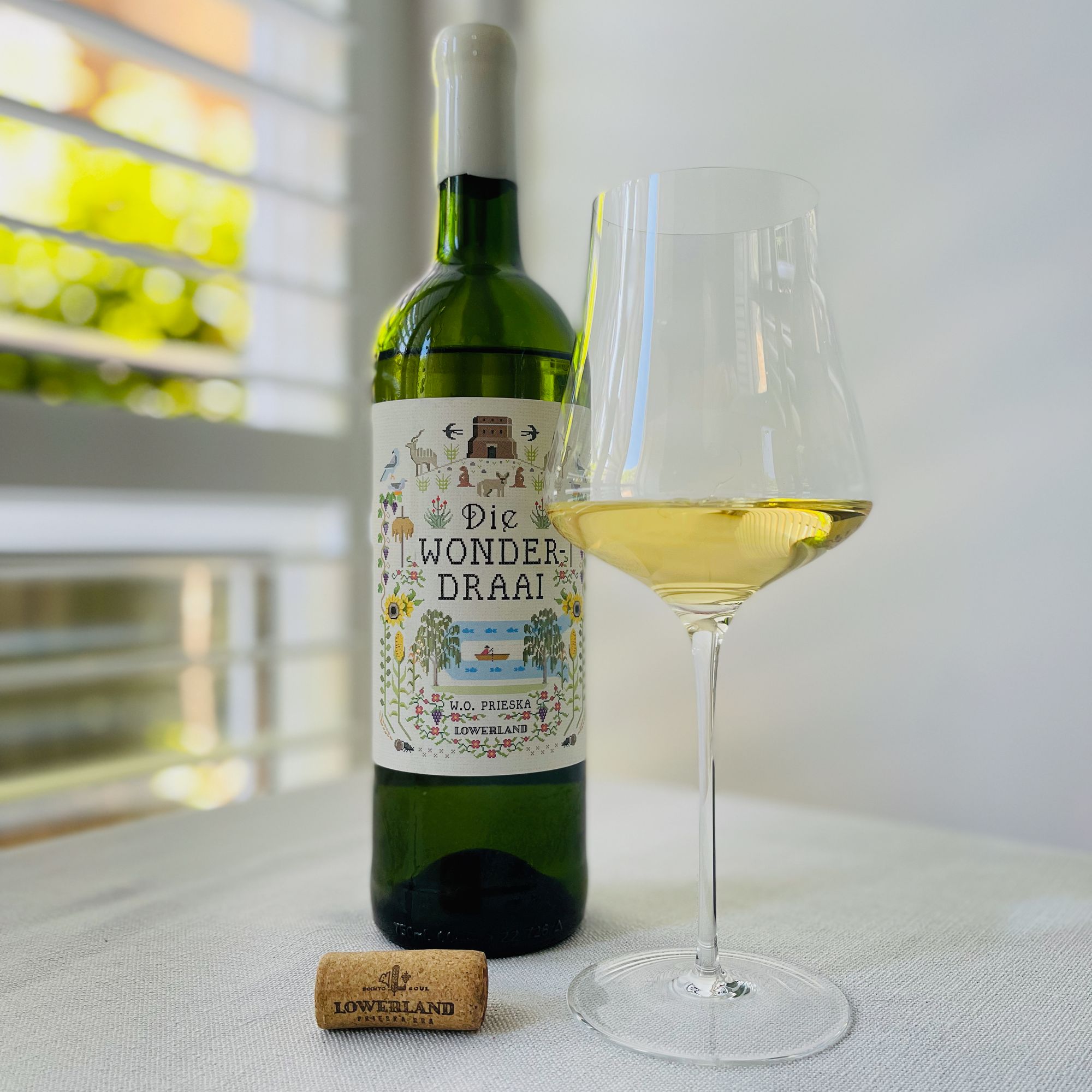 The wine has a lovely yellow colour, perfect for a warm spring day. The nose has aromas of golden delicious apple, jasmine, chamomile, ripe, sweet citrus fruit, peach, apricot, vanilla, a hint of sweet spice and some oaky traits.
The use of old oak and lees ageing produces a dry wine that has a rounded mouthfeel, but is still very fresh and well-balanced by oak flavours. There are flavours of citrus, vanilla, some salinity, peach, apricot and a hint of dried grass or straw on the palate. The wine is perfectly balanced and very enjoyable. It is a wine suited to any occasion.
If you would like to try this wine for yourself you can visit the Lowerland website for more details on where to buy the wine in South Africa, or you can head over to Pip Wine to stock up for the British summer!
If you'd like to receive next week's article in your inbox, sign up to my newsletter (if you haven't already), and if you've enjoyed this particular piece, why not send it on to your family and friends?
You can also follow The Wine Dream on Instagram and Facebook for more photos and tasting notes. 🍷
Disclaimer
Even though this was a press sample from Pip Wine, I have not received any compensation and my notes are my own. I try to be as objective as possible when tasting the wines and writing my tasting notes.