August is Women's Month in South Africa and this past Saturday (21 August) saw the inaugural celebration of National Shiraz Day over there. These two events left me with no other choice but to open the Mullineux Syrah 2017.
Mullineux & Leeu Family Wines
Andrea Mullineux is one half of the dynamic Mullineux winemaking duo that has taken what the Swartland has to offer and made it their life's work to produce exceptional wines.
Andrea grew up in San Francisco and completed a degree in Viticulture and Oenology at UC Davis after which she worked harvests in Napa Valley, Stellenbosch and Chateauneuf. It was during her time in Chateauneuf that she met and fell in love with fellow winemaker Chris Mullineux at a wine festival in Champagne.
Chris completed his degree in winemaking (a second degree, might I add) at Stellenbosch University after which he, like Andrea, spent a couple of harvests working in France and California.
Chris and Andrea decided to settle in the Swartland. In 2016 Andrea was awarded International Winemaker of the Year by Wine Enthusiast. In the same year the pair was also named Tim Atkin's South African Winemakers of the Year.
To find out more about their story and the many accolades and awards they have received, you can visit the Mullineux & Leeu Family Wines website.
Mullineux Syrah 2017
Carefully crafted from grapes grown and harvested across the Swartland. The grapes are grown on the stony shale and schist-based soils of the Kasteelberg, some are from dry land, bush vines grown in decomposed granite of the Paardeberg and lastly some are grown in the iron rich soils west of Malmesbury.
Grapes were chilled and 90% were added to the fermentation tanks as whole bunches, the remainder were de-stemmed. Indigenous yeasts were used for the fermentation proses, which lasted between seven and 10 days, after this the wine remained on the skins for three to seven weeks. The wine was aged in French oak barrels of varying sizes for 14 months. Only 15% of the smaller barrels used were new.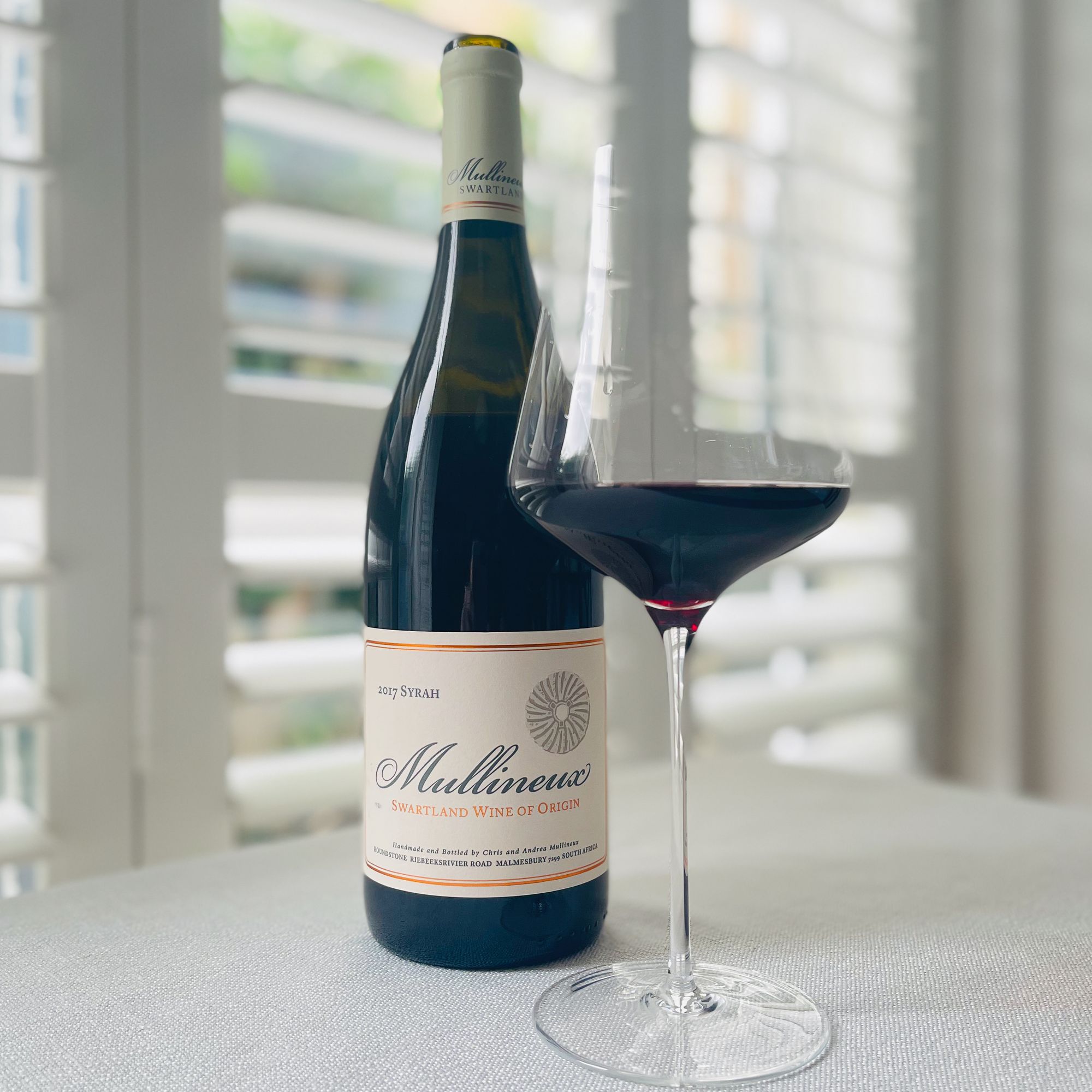 This is a rather exceptional wine with great complexity and depth. The wine has a medium ruby colour, with just a hint of garnet showing that it has started to age a little already. The nose is fresh and inviting with notes of violet, spice, some citrus zest, fresh black fruits such as blackberry, blueberry and sweet black plums. There are also aromas of black pepper, black berry compote, a hint of eucalyptus, chocolate, sweet tobacco, meaty and savoury notes, leather, earth - I seem to find something new every time that I return to the glass!
The palate is dry, with a fresh acidity, supple, ripe tannins and high alcohol. This is a full-bodied wine that shows signs of graceful ageing, but still has a lot of fresh fruit flavours as well. The black fruit, spice, black pepper and meaty character is more prominent on the palate, but is perfectly in balance. The wine is drinking very well now, but will age well - might be a good idea to purchase a couple more bottles and hide them away for another five to 10 years.
Thank you for reading. If you're based in the UK, you can order this wine from Winoship Wines (£25.95) and if you're based in South Africa you can visit the Mullineux & Leeu website  (R370) to place an order.
If you would like to receive these articles in your inbox, click on the subscribe button and send me your email address.
Follow The Wine Dream on Instagram and Facebook for more photos and tasting notes. 🍷
Disclaimer
I do not have any affiliation or partnerships with sellers or producers at this time and my notes are my own. I try to be as objective as possible when tasting the wines and writing down the tasting notes.