Today I had the pleasure of tasting a pair of Sauvignons (Sauvignon Blanc and Cabernet Sauvignon) from Survivor wines. You can read more about Survivor Wines if you click on this link.
Fun fact of the day, Sauvignon Blanc and Cabernet Sauvignon are closely related (albeit one is a red variety and one a white variety) with Cabernet Sauvignon being an offspring of Sauvignon Blanc and Cabernet Franc. It is for this reason that you might sometimes experience flavours and aromas of green bell pepper in certain expressions of Cabernet Sauvignon.
As with the previous Survivor Wines that I have tasted, I thoroughly enjoyed these two wines and would highly recommend them.
Sauvignon Blanc 2019
I have to admit that I was pleasantly surprised by this absolutely delightful wine!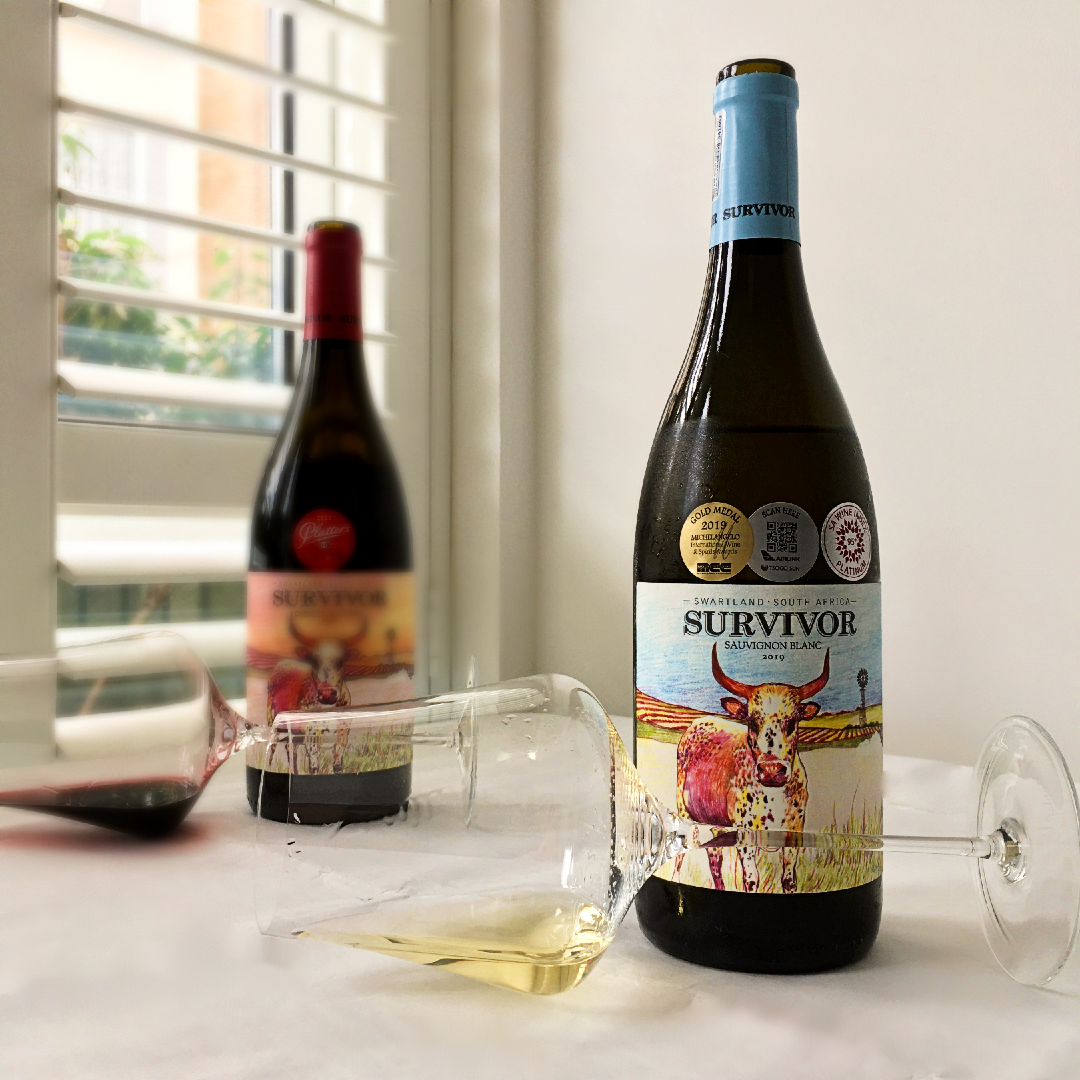 The wine is crisp and fresh with a surprising, but very welcome creamy texture on the palate. Lots of summer fruits on the nose and palate (ripe peaches, melon, passion fruit) along with the crisp herbaceous notes (fresh cut grass, wet stone) inherent to any great South African Sauvignon Blanc are perfectly complimented by a bread dough and yeast character that is interlaced with a hint of vanilla.
As I generally taste a wine and write my notes before looking at the winemaking processes that have been employed by the winemaker, I was pleasantly surprised at the different flavours of the wine. Although the majority of the wine was fermented in stainless steel tanks, 40% spent time in large oak barrels which imparts the bread dough, yeast and vanilla flavours along with the creamier texture.
Cabernet Sauvignon 2018
As far as Cabernet Sauvignon wines go, this is a must for anyone that loves them. This is a young wine that I would like to see age a couple of years, but it is already very enjoyable right now. I couldn't put it down.
The deep ruby colour in the glass has a rich velvety appeal. Aromas and flavours of violet, black cherry, blackcurrant, fig, prune, cranberry, raspberry, sweet spice, oak and butterscotch are all neatly packed on top of a slight hint of bell pepper, mushroom, sweet tobacco and a savoury undertone. It is already a rather complex and full wine, however I am excited to order another bottle (or 6) and see how it develops over the next 2-5 years.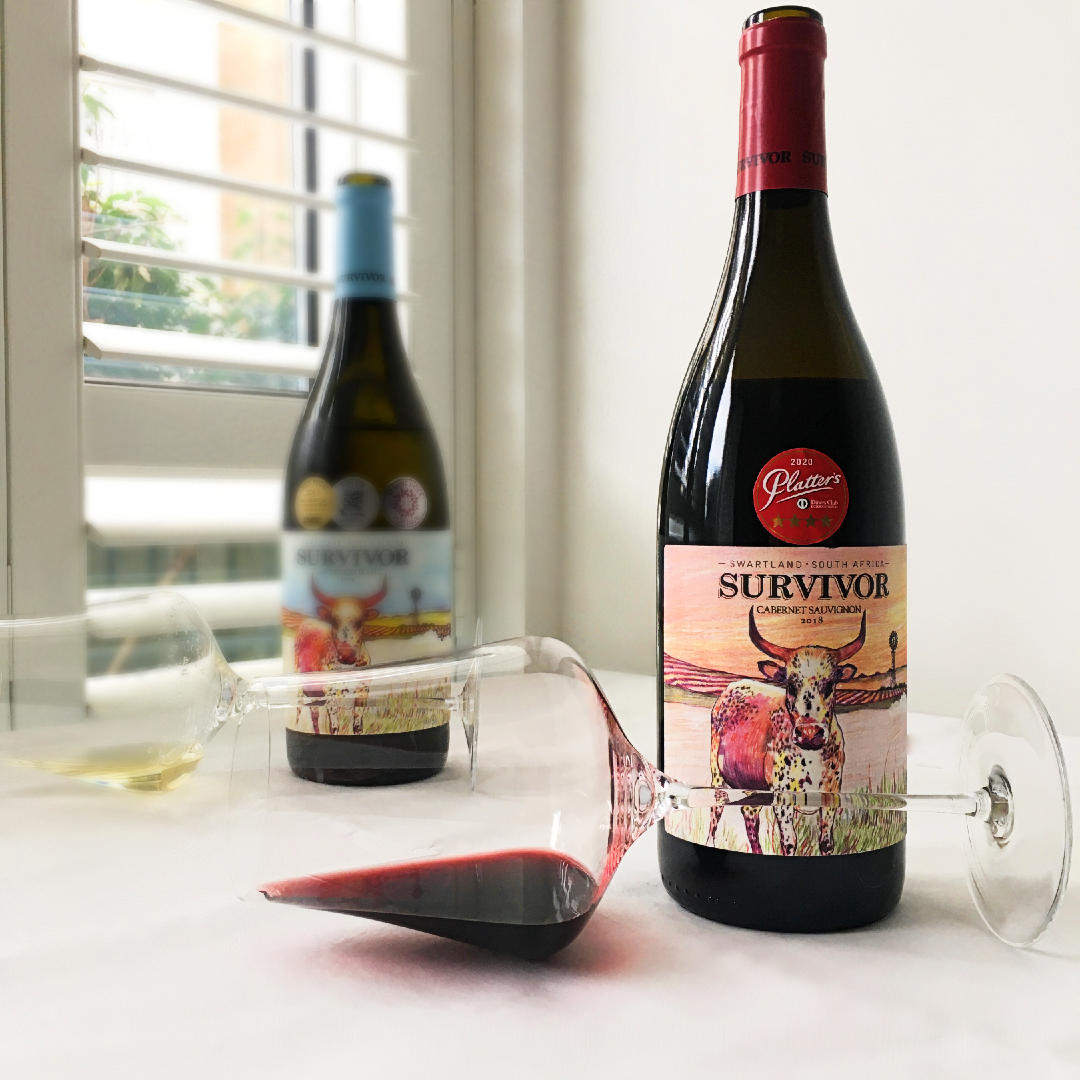 I can't wait to take these to the park to share with friends!
To order a bottle or two of these award winning wine you can visit the Survivor Wines online store (for SA) or the Slurp website (for UK).
If you'd like to receive next week's article in your inbox, sign up to my newsletter (if you haven't already), and if you've found this interesting, why not send it on to your family and friends?
You can also follow The Wine Dream on Instagram and Facebook for more photos and tasting notes. 🍷
Disclaimer
Even though I was approached by Overhex Wines International to review these wines I have not received any compensation and my notes are my own. I try to be as objective as possible when tasting the wines and writing my tasting notes.