Trizanne Signature Wines Marsanne & Roussanne 2020
If you're looking for a silky, refreshing wine that is not Sauvignon Blanc or Chenin Blanc, I might have found it for you. The TSW Marsanne and Roussanne blend was an impulse buy that I'm glad I made. 😁
Trizanne Signature Wines
The perfect wine lies with the wine drinker. – Trizanne Barnard
Trizanne Barnard graduated from from Stellenbosch University with a degree in viticulture and oenology. After her studies she worked in Australia, Portugal and France before settling down as part of the winemaking team of Klein Constantia.
Here, she was offered the opportunity to start Anwilka wines and this helped her to gain the confidence to start her own brand in 2008. The TSW brand focuses mainly on grapes sourced from Elim and the Swartland and produces wines of outstanding quality.
Marsanne & Roussanne 2020
I wasn't really sure what to expect from the bottle when I bought it; Marsanne and Roussanne aren't very well-known grapes varieties in South Africa.
I was pleasantly surprised and have since added this on the list of summer wines (as soon as the weather permits, this will go in a picnic basket and out to the park).
The wine has a pale lemon colour, but does show some depth. The nose is aromatic with white blossom, jasmine, ripe pear, crisp green apple, lemon, lime, white peach, green melon and grassy aromas. The palate is crisp and dry with a high acidity and light body. The fruit flavours are dominant, but there is a strong undercurrent of minerality and a silky, smooth texture.
It is a wine that is very pleasant to enjoy on its own, but will pair very well with a light lunch and perhaps fatty fish such as salmon.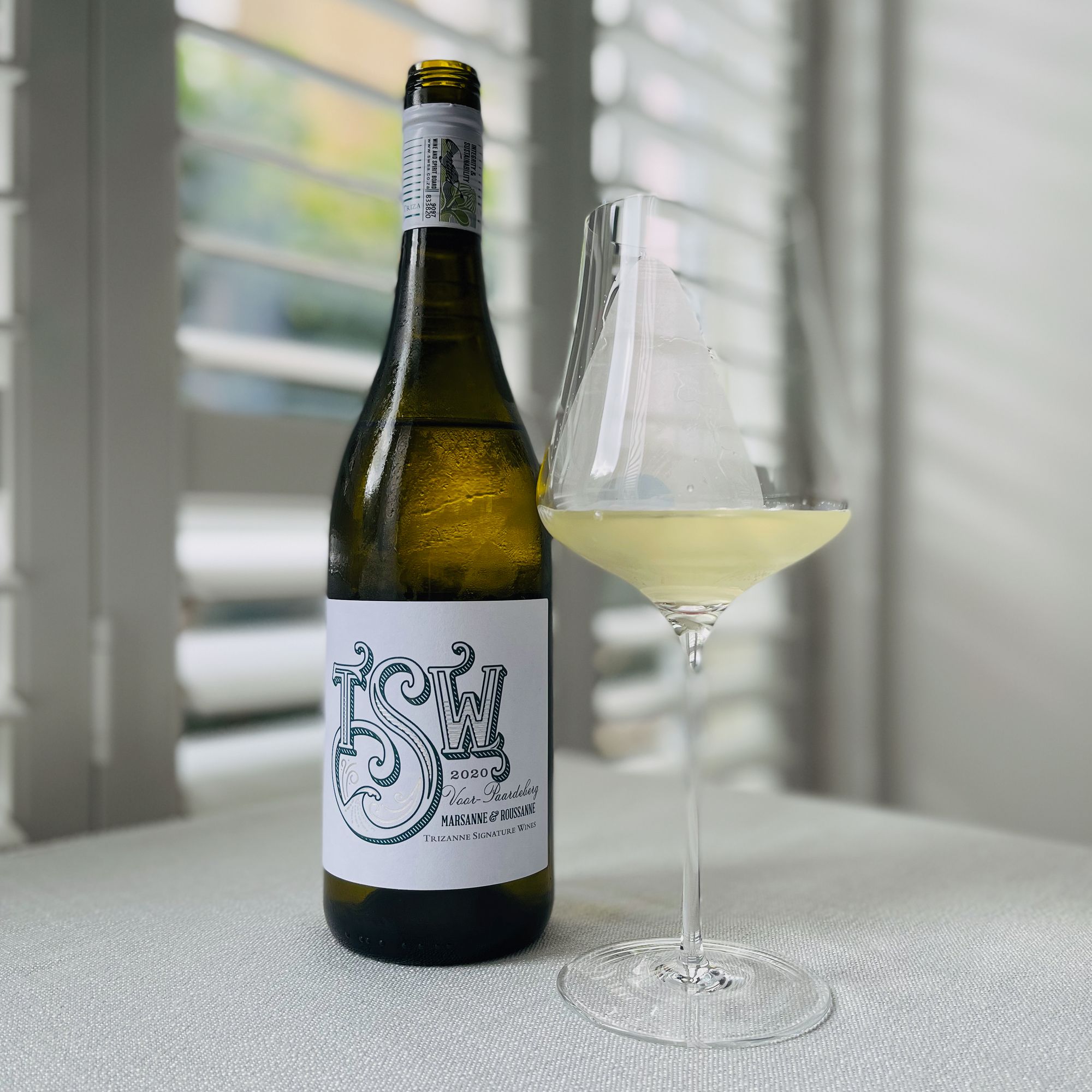 Thank you for reading. If you're based in the UK, you can order this wine from Majestic (£14.99) and if you're based in South Africa you can visit the Trizanne Signature Wines Wineshop for this and other wines from the collection.
If you would like to receive these articles in your inbox, click on the subscribe button and send me your email address.
Follow The Wine Dream on Instagram and Facebook for more photos and tasting notes. 🍷
Disclaimer
I do not have any affiliation or partnerships with sellers or producers at this time and my notes are my own. I try to be as objective as possible when tasting the wines and writing down the tasting notes.