Nebbiolo from Morgenster and Du Toitskloof Wines
Nebbiolo
A little bit of history
Nebbiolo is an Italian black grape varietal, originally (and predominantly) from the Piedmont region in north-west Italy. It is thought that the name Nebbiolo is derived from the Italian word 'nebula' meaning fog or mist; either because of the white, misty bloom that covers the grapes when the berries are ripe or because it is harvested late in the season, during early morning autumnal fogs.
It is thought that the Roman author Pliney made reference to wine made from Nebbiolo as early as 1 AD. Pliney noted the exceptional quality of wine made in the Pollenzo region, located north-west of what is now the Barolo DOCG zone, and although he does not explicitly reference Nebbiolo, the characteristics that he described bears a striking resemblance to Nebbiolo wines.
Nebbiolo was, seemingly, first imported to South Africa by Prof Abraham Izak Perold around 1910. After that more clones were brought into the country between 1990 and 1995. According to local records, Steenberg Winery of Constantia seems to have been the first farm to produce a single varietal Nebbiolo in the 1990s.
Today a small number of wine farms produce single varietal Nebbiolo wines.
Characteristics
Wines produced from Nebbiolo grapes are typically high in acidity, high in tannins and have distinct red-fruit aromas, notes of dried herbs and also floral notes (rose and violet).
Because of the high level of tannins, the wines are often matured in oak barrels for extended periods of time to soften the tannins. These tannins as well as Nebbiolo's high acidity makes it the perfect wine to age in the bottle.
The tasting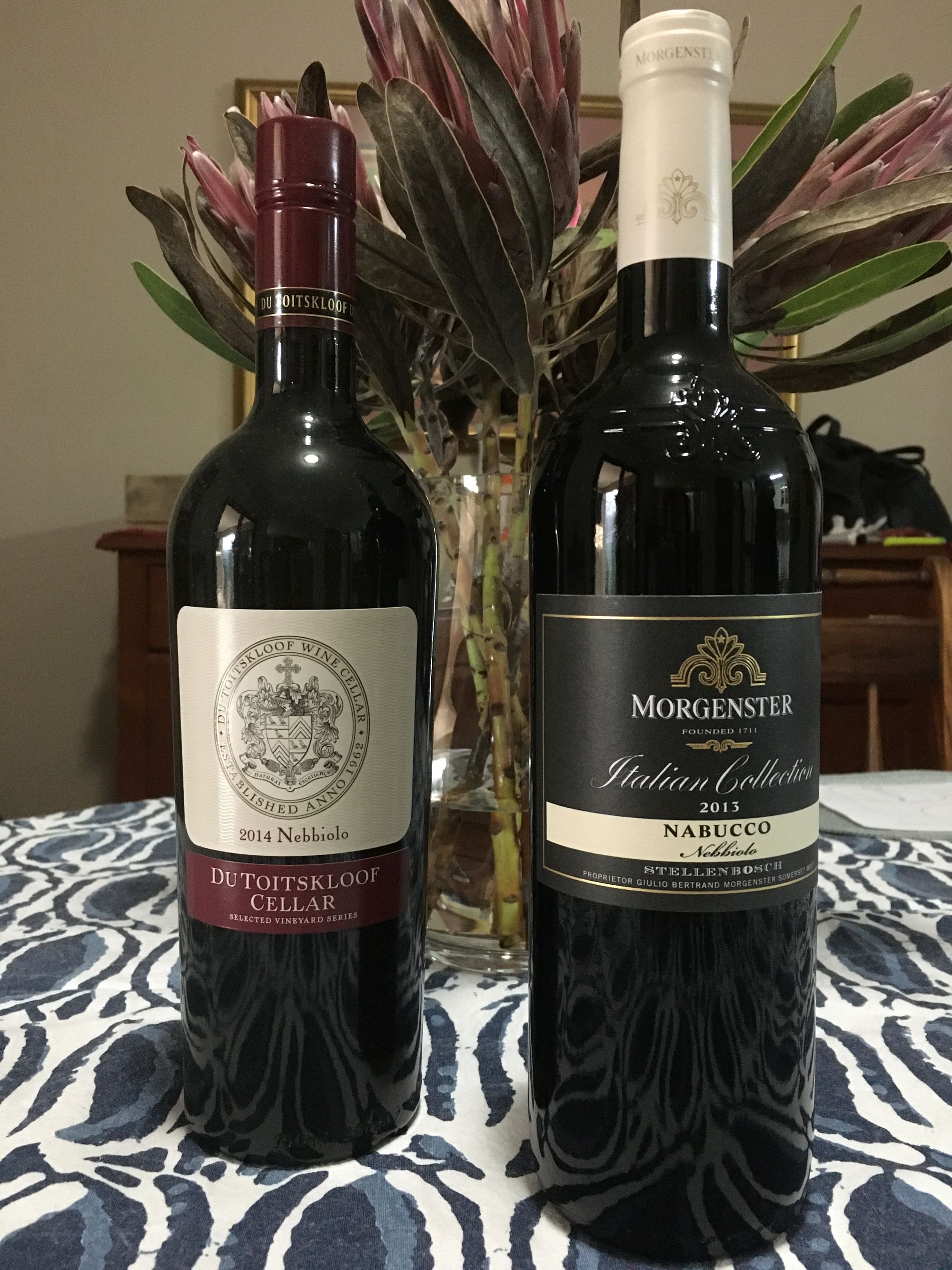 In celebration of Father's Day this year (21 June 2020), I thought it would be a nice idea to host an at-home-Nebbiolo-tasting-experience showcasing two of my favourite South African Nebbiolos.
I unpacked my IWEC (International Wine Education Centre) tasting glasses as well as other small tasting-glass-like glasses, printed tasting placemats from the Wine Folly website and opened the Morgenster Nabucco 2013 along with the Du Toitskloof Nebbiolo 2014.
Then we tasted some wine!
Morgenster Nabucco 2013
The Morgenster Nabucco has aged very well. The wine has a deep garnet colour.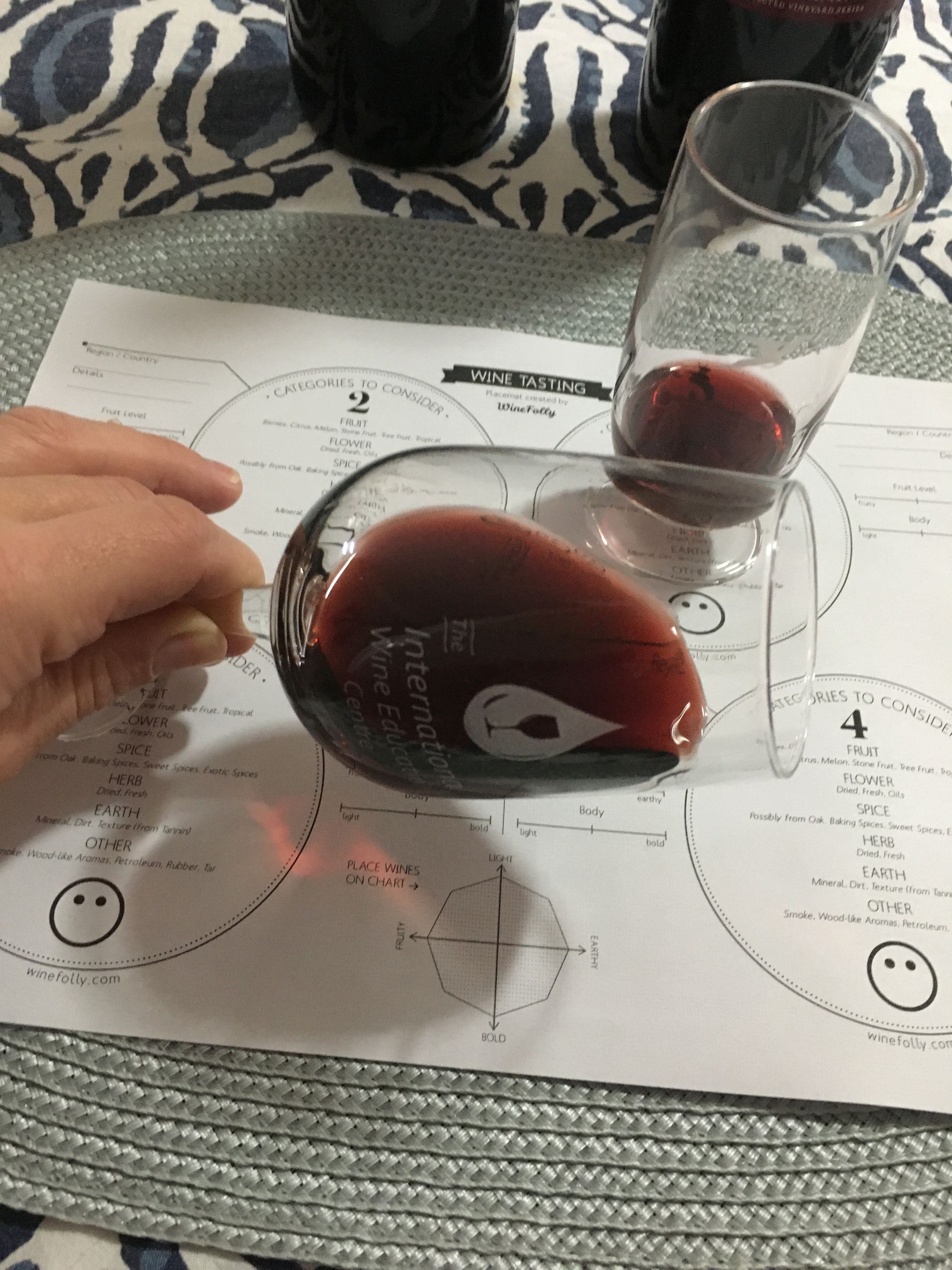 On the nose there is a variety of aromas. Red fruits, a hint of prune, rose and violet aromas as well as sweet baking spices. There is also a forest floor quality and definite cedar wood and leather aromas.
The palate is dry, has high acidity along with high levels of tannins resulting in the (much loved) dry mouth feel. This wine is full-bodied and the aromas on the nose are distinguishable on the palate as well.
There is a long finish.
The Nabucco forms part of the Morgenster Italian Collection series; for more on the wines that form part of the Italian Collection, you can read my earlier article.
Du Toitskloof Nebbiolo 2014
The Du Toitskloof Nebbiolo has a pale to medium garnet colour.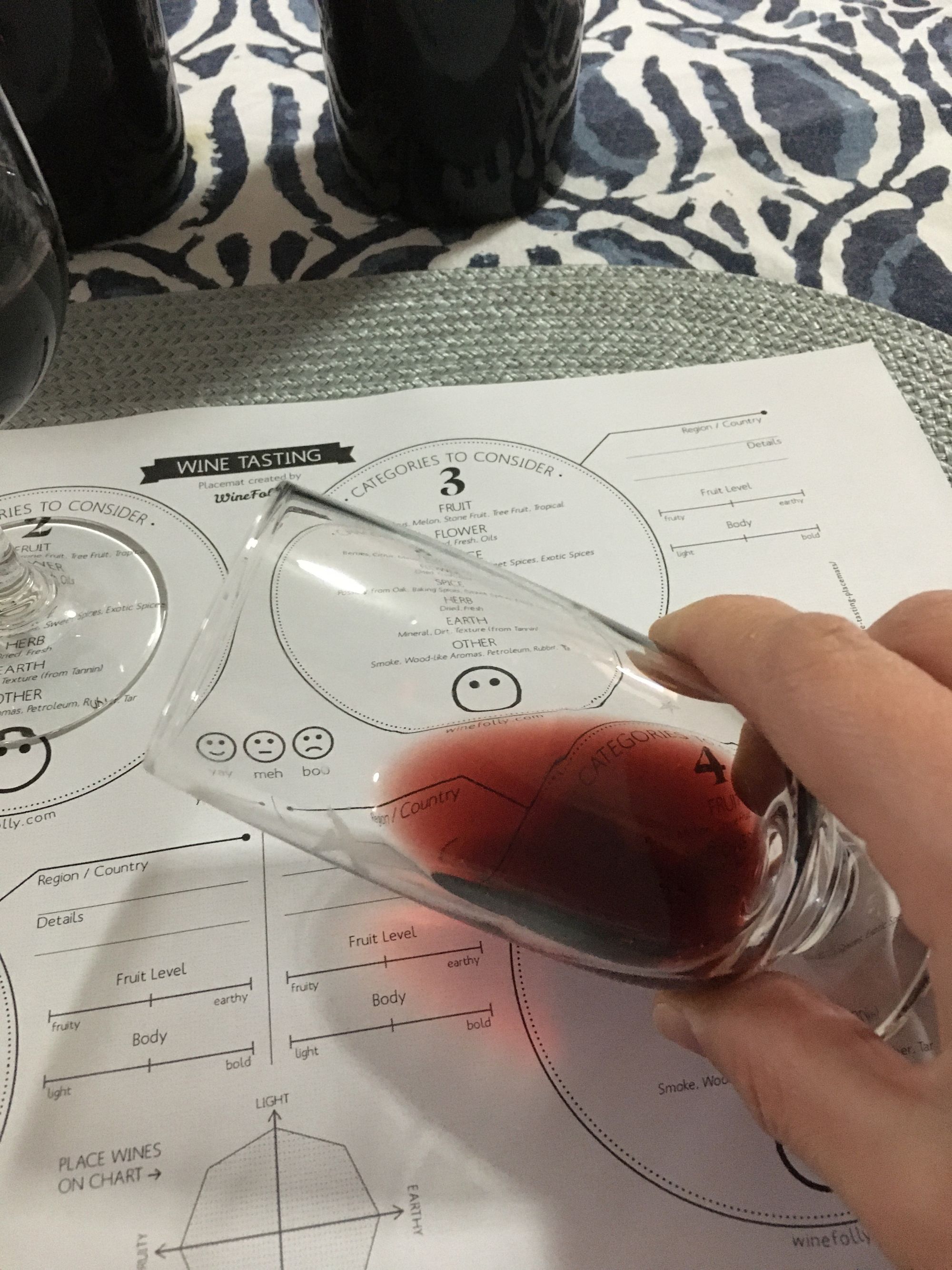 There are definite notes of red fruits (cranberries, strawberry), fig, plum and violet on the nose. You will also smell cured meat and sweet tobacco on this wine.
The first sip reveals that the wine is dry, has softer tannins, medium to high acidity and lots of fruit flavours on the palate. The wine is well-balanced and has a complexity of flavours (the same as those identified on the nose). This Nebbiolo has a medium to long finish with a pleasant tarty taste.
This is a medium- to full-bodied wine.
Final notes
It was such as nice experience to taste two different styles of Nebbiolo alongside one another and to understand some of the influence that the terroir can have on the wine.
The Morgenster Nabucco is a bolder wine that I think is best enjoyed along with a hearty meal. If you like wines that give a dry mouth feel, this is definitely one to add to your list of must-drink wines.
The Du Toitskloof Nebbiolo is a lighter style wine and will stay one of my go-to wines to enjoy on its own or with a good braai.
I am in love with both of these wines and will keep adding these to my selection on a regular basis. 🍷
Thank you for reading! Stay home, stay safe and support local wines.
Follow The Wine Dream on Instagram for more photos and tasting notes.